A FrontPage Web is created in two ways:
Creating a new Web using a FrontPage template

Importing an existing Web using the Import Web Wizard
Once either of these tasks has been completed, you can work with these FrontPage Webs in the same manner.
A Web is begun with the File, New, Web command. A dialog box opens, listing the templates and wizards that can be used to create the new Web. The Import Web Wizard is one of these options.
Two of the Web templates are used to start a new Web from scratch: the Empty Web and One-Page Web. These Webs consist of the standard file folders, no themes, and no other extra features. The only difference between them is that one includes a blank Web page and the other doesn't.
Import Files to a Web
The World Wide Web is a conglomeration of different media. While pages consist of text documents, these pages can include a variety of different file types, including the following:
To incorporate these media into your FrontPage Web, you should first make them a part of the Web using the File, Import command.
You can import files, entire folders, and World Wide Web sites. Requesting the latter causes the Import Wizard to be called so you can specify the site's URL and how it will be retrieved.
A convention of FrontPage is to create an images subfolder where a Web's images can all be stored. If you're working with other types of media, you might want to create folders for them as well "such as java for Java applets and sounds for any sound files you're using.
Once you have imported a file, it will become part of the Web. Whenever you copy the Web to a new folder or actually publish it to the World Wide Web, that file will be included.
Copy and Delete a Web
You can copy a Web to a new folder on your system by publishing it. In FrontPage, the Publish feature will copy a Web to another location, whether it's on your computer's hard drive or a server that's connected to the World Wide Web.
It's easier to publish a Web to your own system because you don't require a username, password, or other special access.
To copy the current Web to a new folder, select File, Publish Web to open the Publish Web dialog box (see Figure 36.1).
Figure 36.1. Choosing how to publish a Web.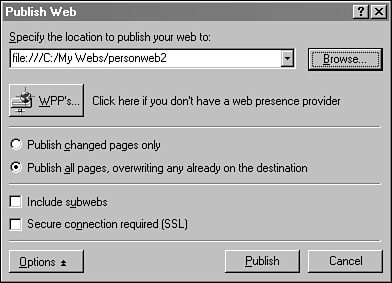 The Browse button on the Publish Web dialog box is used to select the location where the Web should be copied . It opens a Windows file open dialog box with some extra FrontPage-specific features on it.
If there's an empty folder on your system where the Web should be stored, you can use this dialog box to find the folder and open it.
You also can use the file open dialog box's New Folder button to create and name a new folder for the Web.
When you're copying a Web to a new folder, select the option to publish all of its pages so that nothing is omitted. After the Web has been published in full, you'll have two copies of it on your system.
You can delete a FrontPage Web in two different ways:
To perform either deletion, open the Web and display its folder list (if this list isn't visible, use View, Folder List in the Page or Navigation views). Right-click the name of the Web "the top line in the folder list "and select the Delete command. A dialog box that enables you to delete FrontPage material or the entire Web opens.
Both of these actions are permanent, so you should handle them with due diligence "a phrase I picked up from stock traders that seems to mean "anything bad that happens as a consequence of my advice is entirely your fault."
Deleting an entire Web wipes out the folder containing the Web, all of its subfolders , and all of the pages, images, and other files that comprised the Web.
Deleting the FrontPage material of the Web only makes the site unrecognizable as a FrontPage Web. Everything else "pages, images, and other files "is not removed.
FrontPage places several files in a Web's folders that are used by the software to manage the Web. When you use the Import Web Wizard to bring an existing site into FrontPage for the first time, these behind-the-scenes files are created during the import process.
A Web with none of its FrontPage material can still be viewed normally with a Web browser, but you won't be able to open it for editing in FrontPage.
| | |
| --- | --- |
| | If you ever change your mind after deleting this part of a Web, you can bring it back into FrontPage as a new Web by using the Import Web Wizard. |