#76. Using Character Styles in Illustrator and InDesign
If you want to consistently format certain characters, words, or sentences but not necessarily paragraphs, look no further than character styles. Character styles are available in Illustrator and InDesign, allowing you to establish a collection of formatting attributes that you can quickly apply to a selection of text (Figure 76a). And since it's a style, you can perform last minute formatting changes at, well, the last minute instead of frantically scouring through your document for the particular formatted bits of text to update.
Figure 76a. Illustrator and InDesign include character styles and their requisite palettes. Both applications' options and interfaces for creating character styles are virtually identical.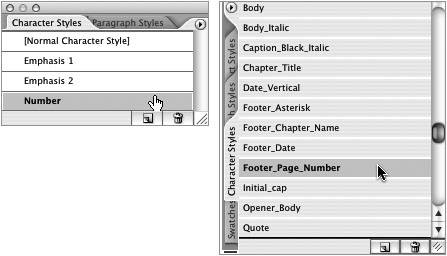 Using Both Style Palettes at Once
The default workspace settings in both Illustrator and InDesign have the Character and Paragraph Styles palettes grouped as a set. Sure, this helps save precious screen real estate, but it can sometimes be a pain to switch back and forth between the two frequently accessed palettes. Try docking (see #4) the Character Styles palette to the bottom of the Paragraph Styles palette so both are available at the same time.
You can create character styles completely from the ground up by selecting the formatting options you want from the Character Styles Options dialog. With no text selected, click the New Character Style button in the Character Styles palette while holding down Option/Alt to start a new style from scratch. (To access the Character Styles palette, choose Window > Type in Illustrator or Window > Type & Tables in InDesign.) You can also base a character style on formatting you've already applied to existing text. Using the Text tool, select the portion of text that includes the formatting you want to base your character style on. Then click the New Character Style button. Once you've created your character style, you can begin applying it to other selections of text throughout your document.
To apply a character style to a selection of text, click the style name in the Character Styles palette in Illustrator or InDesign. In InDesign, you can also select the style from the Character Styles drop-down menu in the Control palette (Figure 76b) when you have the Character Formatting Options mode selected

or call up the Quick Apply panel and start typing part of the character style's name.
Figure 76b. InDesign's Control palette provides quick access to your character styles. This is convenient if you happen to be working in the Control palette anyway.