#97. Touching Up PDFs in Acrobat
Let's say you just finished exporting an overly complex InDesign file as a PDF to prepare it for a review that's supposed to happen in 10 minutes. You have the PDF open in Acrobat when you notice a major typo staring back at you. You might think all is lost since you don't have enough time to go back and export the entire PDF into InDesign. But don't despair, Acrobat's smart set of TouchUp tools are there to help.
Touching Up the Reading Order
One other tool in the TouchUp toolbar is the TouchUp Reading Order tool. This tool helps you adjust the reading order of your document to make it accessible for vision- or motor-impaired users.
The TouchUp Text and Object tools permit you to make last minute, minor edits to your PDF documents directly within Acrobat (Figure 97a). The tools work much like you would expect in an Adobe application. You can call on these powerful tools by choosing Tools > Advanced Editing > Show TouchUp Toolbar within Acrobat. Note that if the document has certain security settings applied, you may not be able to touch it up.
Figure 97a. The TouchUp tools in Acrobat make it easy to perform last minute corrections or edits to your PDF documents.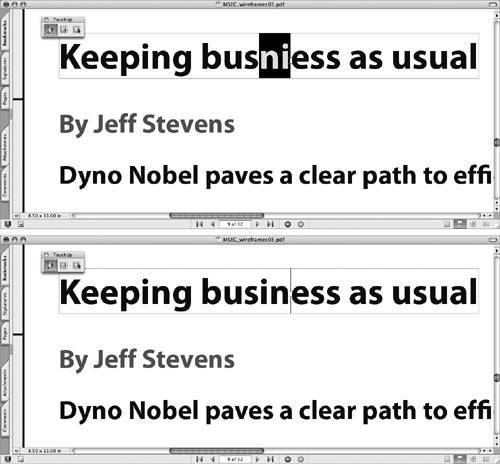 You can select, edit, and even format text with the TouchUp Text tool

. To make text changes, select the TouchUp Text tool and then select your text. To edit the text properties of the text you have selected, Control-click (Mac) or right-click (Windows) and choose Properties from the contextual menu. The TouchUp Properties window (Figure 97b) opens, allowing you to change several formatting properties of the selected text.
Figure 97b. The TouchUp Properties window allows you to adjust the more popular formatting properties.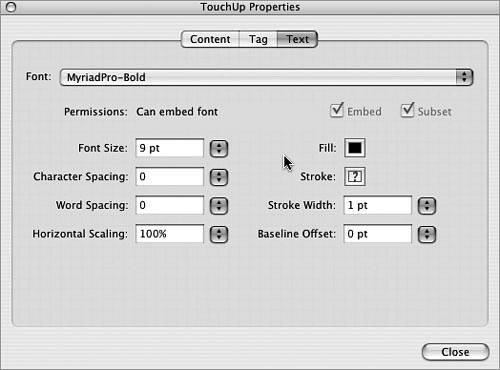 The TouchUp Object tool

allows you to select objects to reposition or delete them. You can also edit just the object in Photoshop or Illustrator. To edit an object you have selected with the tool, Control-click (Mac) or right-click (Windows) and choose either Edit Object or Edit Image. Only one of these options will be available depending on the type of object you have selected. Once you've made your edits in Photoshop or Illustrator, you can place the artwork directly back into the PDF.