Version 7 of Paint Shop Pro is amazing in its depth. Some of the new features were previously available only on programs costing hundreds of dollars more. Other new features are not available at any price, except in Paint Shop Pro.
The following paragraphs outline some of these new features; I go into more detail on how to access and use these features in later chapters.
Automatic Correction " With a single command, you can now correct some of the most common image flaws, such as red-eye, color balance, saturation, brightness, fading, and small scratches. You can also reduce damage to images caused by excessive JPEG compression, missing scan lines from a video capture, and blobs and banding caused by scanning copies of an image.

Easier Manual Correction " Using Manual Color Correction, you can now adjust selected colors within an image, preventing other colors (such as official company colors) from being unnecessarily changed.

Adjustable Zoom Area " If you've zoomed into a small area of a larger graphic, you can use the Overview window to quickly view a smaller version of the graphic in its entirety. You can also use the Overview window to change the zoomed-in area of the graphic in which you're currently working.

More Complex Objects " When you create bitmap or vector objects, you can now add gradient, pattern, or texture to the object's outline or fill.

Vector objects are objects that still can be manipulated after they have been created. Unlike normal bitmapped objects, vector objects can be updated at any time. Paint Shop Pro now allows you to create fully editable text and shapes . This includes creating text that flows along a path .

Improved Color Palette " The new Color Palette allows you to change not only the foreground and background colors used with the drawing tools, but to quickly select gradient, pattern, and texture effects as well.

Numerous Special Effects " Of course, there are many new special effects you can add to your images, including lighting, fur, brush strokes, sunburst, soft plastic, aged newspaper, sepia, colored foil, sandstone, fine or rough leather, and enamel. And with the help of the new Effects browser, you can try out various special effects before you apply them.

Easy Alignment of Objects " The objects you create (such as text, circles, or lines) are now easier to place exactly where you want them by using the new Snap to Grid and Snap to Guides commands. In addition, vector objects can now be grouped when needed for easier manipulation. Vector objects can also be arranged in relation to other vector objects (such as behind or in front of them), making it much easier for you to place the objects you create exactly where you want them.

Data Loss Prevention " Prevent your changes from being lost accidentally by having Paint Shop Pro automatically save them for you at whatever intervals you desire . This can be done by using the new Autosave option.

Workspace Setup " You can now save the position and settings related to your toolbars , palettes, gridlines, ruler, and zoom level, along with a list of open images in a workspace. Later, when you open that workspace, Paint Shop Pro automatically will be set up exactly the way it was before, so you can get back to work without a lot of fuss.

Web Preview " Get an accurate estimate of how an image will look out on the Web by previewing it in up to three different Web browsers. In your Web browser, you can also preview your selection of format, such as BMP, JPEG, PNG, or GIF.

Create New Shapes " Export any object (or group of objects) you create to the Preset Shapes tool, and recreate it anytime .
In addition, you'll find that many new features have been added to Animation Pro as well:
PSP Browser integration " Now you can use the Paint Shop Pro browser to locate and open your animations.

MPEG compatibility " You now can open MPEG files in Animation Pro!

Web browser preview " Similar to the new feature in Paint Shop Pro, this allows you to preview your animation as it will appear on the Web, using up to three different Web browsers.

Move the contents of a frame " You now can use the Mover tool to adjust the contents of a frame.

Export back to PSP " Now you can export an entire animation (or selected frames ) back to Paint Shop Pro, creating a multilayered , single image that you can edit.

Onionskin View " Use this view to temporarily overlay the contents of adjoining frames on top of the current frame, enabling you to make even fine adjustments with ease.

VCR controls " The new VCR-like controls enable you to fast forward, pause, and even reverse your animation when previewing it.
Using Online Help
As with many other Windows programs, Paint Shop Pro offers extensive online help. You can access the online help feature from the menu bar. Choose Help, Help Topics to open the Paint Shop Pro Help panel (see Figure 32.1).
Figure 32.1. The Paint Shop Pro Help panel.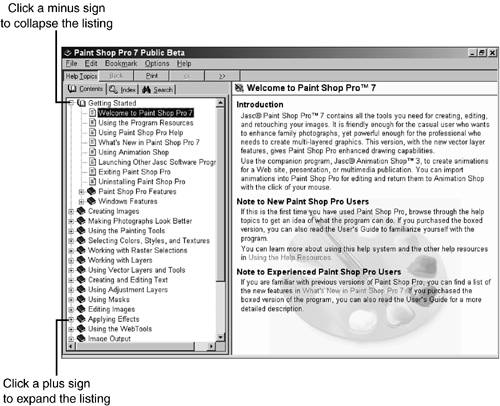 Paint Shop Pro's Help works in a manner similar to Windows 98 Help: Select a topic from the list on the left and it appears in the pane on the right. You might need to expand the listing (by clicking the plus sign in front of a book icon to "open" it) to locate the topic you want to display. Using the Index tab, you can search for a topic based on its presence in a heading; with the Search tab, you can search for a phrase located anywhere within a topic "in a heading, or within the body text itself.