Smith Justin
Microsoft

PUBLISHED BY
Microsoft Press
A Division of Microsoft Corporation
One Microsoft Way
Redmond, Washington 98052-6399
© 2007 by Justin Smith
ISBN: 9780735623064

All rights reserved. No part of the contents of this book may be reproduced or transmitted in any form or by any means without the written permission of the publisher.
Library of Congress Control Number: 2007920381
1 2 3 4 5 6 7 8 9 QWE 2 1 0 9 8 7
Distributed in Canada by H.B. Fenn and Company Ltd.
A CIP catalogue record for this book is available from the British Library.
Microsoft Press books are available through booksellers and distributors worldwide. For further information about international editions, contact your local Microsoft Corporation office or contact Microsoft Press International directly at fax (425) 936-7329. Visit our Web site at www.microsoft.com/mspress. Send comments to [For Resource Kits: rkinput@microsoft.com.; For Training Kits: tkinput@microsoft.com.; For all other titles: mspinput@microsoft.com.]
Microsoft, Microsoft Press, Active Directory, BizTalk, Groove, SQL Server, Virtual Earth, Visual C#, Windows, Windows Live, Windows NT, Windows Server, Windows Server System and Windows Vista are either registered trademarks or trademarks of Microsoft Corporation in the United States and/or other countries. Other product and company names mentioned herein may be the trademarks of their respective owners.
The example companies, organizations, products, domain names, e-mail addresses, logos, people, places, and events depicted herein are fictitious. No association with any real company, organization, product, domain name, e-mail address, logo, person, place, or event is intended or should be inferred.
This book expresses the author's and opinions. The information contained in this book is provided without any express, statutory, or implied warranties. Neither the authors, Microsoft Corporation, nor its resellers, or distributors will be held liable for any damages caused or alleged to be caused either directly or indirectly by this book.
Acquisitions Editor: Ben Ryan

Project Editor: Kathleen Atkins

Editorial and Production Services: Waypoint Press

Technical Review: CM Group, Ltd.

Copy Editor: Jennifer Harris

Proofreader: Shawn Peck

Indexer: Seth Maislin
Body Part No. X13-23790
Dedication
To my parents,
Mike and Nancy Smith
About the Author
Justin Smith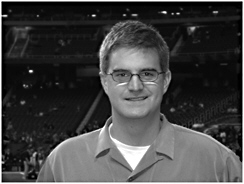 Justin Smith works as a Technical Evangelist at Microsoft. Prior to joining Microsoft, Justin worked as an author, trainer, and consultant at Wintellect. As anyone who has taken one of his courses or worked with him as a consultant can tell you, Justin has a talent for taking complex ideas and distilling them into manageable language.
Justin became interested in software development toward the end of his engineering courses at Georgia Tech. Bridging the gap between engineering and software development, Justin's first job out of Tech was as an implementation consultant with Parametric Technology Corporation (http://www.ptc.com). Justin later took a job with Engineering Animation Incorporated, where he developed custom UNIX and Windows CAD/CAM/CAE applications with C/C++ and Java. During his time in the CAD world, Justin built and integrated several applications (eVis, VisView, Pro/Intralink, and Pro/Engineer) that facilitated the design, testing, and manufacture of military and commercial aerospace components.
After EAI, Justin co-founded Lighthouse Business Solutions, a document management development and consulting firm. During his tenure at Lighthouse, Justin designed, built and integrated document management systems for more than 30 large corporations and distinguished himself as one of the premier document management experts in the country.
Acknowledgments
Dozens of people helped me write this book. Their dedication of time and energy has helped ensure that this book is well organized and factually correct. They deserve credit for everything that is correct, and none of the blame for any of the mistakes. Blame rests with me.
Although many have helped with this book, Jeffrey Richter has gone above and beyond. His input has helped me become a better developer, presenter, and author. His reputation in the Microsoft Windows development community is well deserved. I will never be able to repay him for his investment in me.
My Review Crew diligently reviewed my chapters and were very open with feedback. This book is much better as a direct result of their input: Arun Chandrasekhar, Doug Holland, George Ivanov, Guy Burstein, Jalil Vaidya, Jason Davis, David Jensen, Krishnan R., Marcelo Lopez, Martin Kulov, Mitch Harpur, Paul Ballard, Rick Casey, and Rob Hindman.
My long-suffering editors also deserve special mention: Kathleen Atkins, Scott Seely, Jennifer Harris, and Ben Ryan. Your patience has been epic.
One of the benefits of working for Wintellect is the high caliber of the staff. Though they may not have helped with the book directly, many Wintellectuals have helped me both professionally and personally: Jeff Prosise, John Robbins, Paula Daniels, Cara Allison, Brendon Schwartz, Sara Faatz, Jim Bail, Sam Easterby, Lewis Frazer, and Todd Fine.