52. Creating and Sharing Your Bookmarks
BEFORE YOU BEGIN
29 Understanding the Blogger Template Structure and Editor
SEE ALSO
53 Embracing Folksonomy
52. Creating and Sharing Your Bookmarks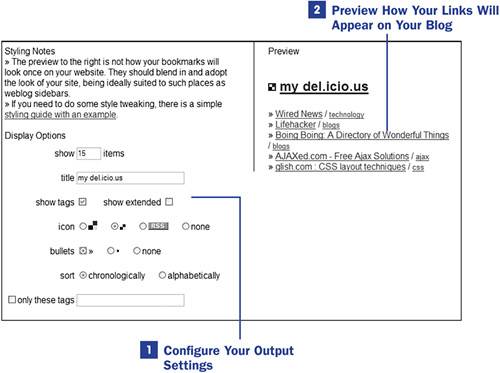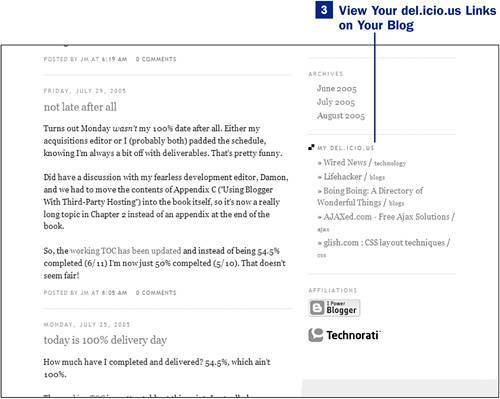 Social bookmarking refers to the process of creating bookmarksjust like in a traditional web browserbut storing and categorizing them in an online repository and sharing them with others. Users who partake in social bookmarking offer their lists for subscription, and subscribe to the lists of others. One very popular social bookmarks manager is del.icio.us, and this topic shows you how to output your del.icio.us bookmarks to your blog.
To learn more about del.icio.us and create a free account, visit http://del.icio.us/ and click the Register link. After registering, browse through the bookmarks and categories of other users and find some new websites to visit or store your own pre-existing bookmarks. When you have compiled a list of bookmarks to share, go to http://del.icio.us/doc/feeds/js/ to get the code needed to include your del.icio.us links on your blog.
1.

Configure Your Output Settings

You can configure several settings to control the appearance of del.icio.us links on your blog. You can control both the number of items shown and the order in which they are shown: alphabetically or chronologically by date added. You can display the link title, the link description, or neither (in which case just the URL will be shown). You can select an icon to call attention your links section, and you can choose an arrow or a bullet to precede your links. Finally, you can filter your links and show only links that have been tagged with a certain keyword.



2.

Preview How Your Links Will Appear on Your Blog

As you make changes to the output settings, the preview area dynamically changes to show how your links will appear on your blog. Also on the http://del.icio.us/doc/feeds/js/ page, but not shown in this figure, you can find additional information regarding styling your output with CSS (Cascading Style Sheets). Most important of all, you can copy the JavaScript snippet you have to place in your Blogger template.



3.

View Your del.icio.us Links on Your Blog

Paste the snippet of JavaScript obtained from del.icio.us somewhere in your Blogger template. Access the Blogger template editor by logging in to Blogger, clicking the Change Settings icon in the Blogs section of the Blogger Dashboard, and then clicking the Template tab.

Find an area where you would like the links to appear and paste the code there. In this example, I have placed the code for my del.icio.us links in the area underneath my blog archives, in the sidebar of the blog template. When you have placed your code snippet in your template, click the Save Template Changes button and republish your blog. As you add bookmarks through the del.icio.us interface, this JavaScript snippet will display them; there is no need to modify your template every time you update your del.icio.us links.


NOTE
del.icio.us is not the only social bookmarks management system out there. Check out the Wikipedia entry for social bookmarking at http://en.wikipedia.org/wiki/Social_bookmarking to find a long list of services.