51. Using Indexing Mechanisms to Your Advantage
BEFORE YOU BEGIN
11 Enabling and Publishing Site Feeds
49 Providing an External RSS Feed
51. Using Indexing Mechanisms to Your Advantage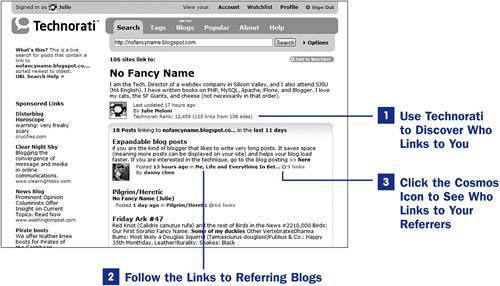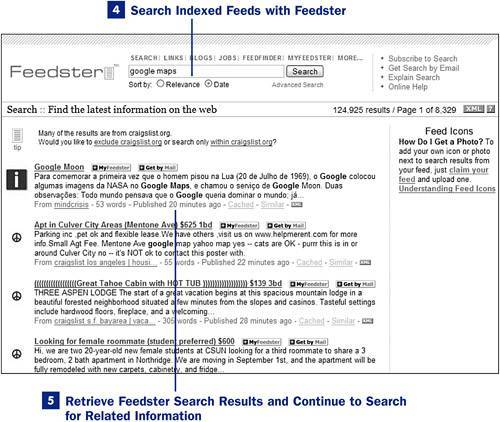 Publishing an RSS feed makes it simple for readers to keep up with your posts, but there is also the added advantage of its inclusion in indexing mechanisms such as Technorati and Feedster. Both Technorati (http://www.technorati.com/) and Feedster (http://www.feedster.com/) are real-time search engines that index the constant stream of blog posts. Having a new blog created every second, and almost a million new blog posts hitting the Web every day, proves a very constant stream indeed. With your RSS feed in hand, all you need to do to ensure that your posts are indexed in these search engines is make sure that your blog is registered with the services, and ping them when you have updated your blog.
NOTE
For information about registering your blog with Technorati, visit http://www.technorati.com/signup/ and follow the instructions.
For information about registering your blog with Feedster, visit http://feedster.com/help/ and follow the instructions.
Although Technorati and Feedster offer some of the same services, the various interfaces for searching their indexed data are quite different. The examples in steps 13 use Technorati to see how tools are used to discover who links to your blog, but Feedster offers some of the same services. Similarly, steps 4 and 5 use examples of a Feedster search to show how results can be displayed and used for further research; Technorati offers this feature as well. You are encouraged to register your blog with both indexing services, and utilize the toolsets available from both companies to determine which service best meets your needs.
1.

Use Technorati to Discover Who Links to You

After registering your blog with Technorati, you can get a real-time look at the number of other blogs linking to yours. Links are typically displayed with the newest links at the top of the list rather than in alphabetical order, making it much easier to find new links.



2.

Follow the Links to Referring Blogs

With each entry on your referring links page, you get the title of the post or blog that links to your blog, a snippet of the text surrounding the link to your blog, and a few other links to the referring blog and that blog's cosmos of links. It's a veritable bonanza of links, all of which you can follow and see how your blog is linked toit could be in a blogroll or it could be in a blog post referring to something you've written.



3.

Click the Cosmos Icon to See Who Links to Your Referrers

Each referral to your blog has its own cosmos of links. Just as your blog cosmos contains all the blogs that link to yours, the cosmos of a referring blog contains all the blogs that link to that blog. If you follow these links and find new blogs to read and link to, you will inevitably increase your own cosmos. The number of links and the quality of the links that link to you work together to increase your personal blog ranking.



NOTE

Indexes of reciprocal links are not unique to Technorati; Feedster also performs such searches.

4.

Search Indexed Feeds with Feedster

Enter a term or series of terms in the Feedster search field and then click the Search button to retrieve results of your search against Feedster's index of feeds. You can retrieve search results by relevance, which would display results more typically found in a traditional search engine, or you can retrieve search results by date, which would more accurately reflect the trend or buzz around particular topics in the Blogosphere.



5.

Retrieve Feedster Search Results and Continue to Search for Related Information

Feedster search results contain the linked title of the post containing your keywords, a snippet of the text found in the post, and a few other items of use: the blog name and link, the number of words in the post, how long ago the post was published, and links to similar posts. Additionally, and depending on the search results, Feedster offers the capability to filter out repetitive results, which can help you find the information you are looking for much more quickly.


NOTE
Technorati, like Feedster, allows similar types of keyword searches on its index of "the world live web."