14. Modifying Your Blogger Profile
BEFORE YOU BEGIN
4 Logging In to Blogger and Navigating the Dashboard
Although your Blogger profile does not have anything directly to do with your blog or the blogging process, keeping your profile up-to-date enables your readers to learn more about you. Additionally, potential new readers might find your blog simply by browsing lists of related interests, favorite movies and music, or even geographic location. Your profile can be as cryptic or chock full of information as you want it to be because not all the profile fields are required.
To edit your profile, log in to Blogger and click the Edit Profile link in the upper-right corner of the Blogger Dashboard. This area will include your profile image (if available) and your Blogger display name.
14. Modifying Your Blogger Profile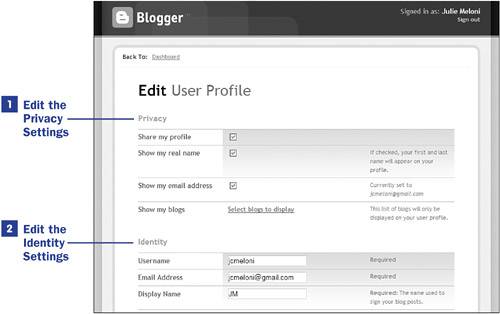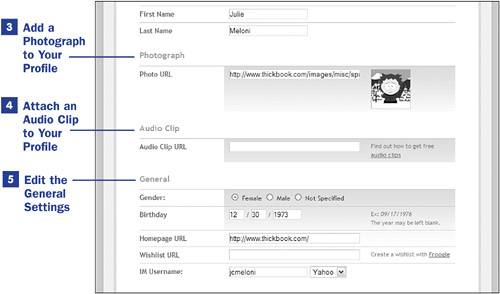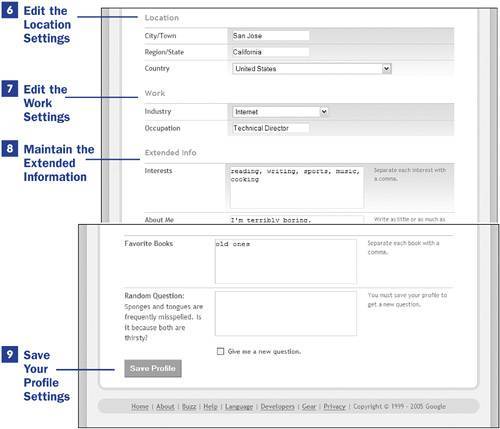 1.

Edit the Privacy Settings

The four privacy-related settings have to do with the manner in which elements are displayed in your Blogger profile. These begin with the Share My Profile check box: If it is not checked, your profile will not be shared with the public. Next is the Show My Real Name check box, and check this box if you want Blogger to show your real first and last name on your user profile. If the Show My Real Name check box is unchecked, your display name will be used instead. The Show My Email Address check box determines whether your registered email address will be made public on your profile. Providing an email address is important to foster communication between you and your readers, but this address might easily land in the hands of a spammer. It is recommended that you display a contact email address but use a good spam filter on your incoming mail. The final setting in this section is the list of blogs that are to be displayed on your profile. Clicking the Select Blogs to Display link will take you to a page containing a list of the blogs you own or of which you are a member. You can choose to display links to all, none, or a combination thereof on your Blogger profile.



2.

Edit the Identity Settings

Your identity settings should look very familiar; they were required during your initial Blogger registration process. A required field, your Username, is used to log in to Blogger but can be changed here. Next up are two more required fields: your Email Address and your Display Name. The Display Name is different from your First Name/Last Name "real name" because it is used to sign your blog posts and in Blogger-based commenting. The First Name/Last Name text fields are not required, but when they're completed and the Show My Real Name check box is checked in the previous section, this "real name" will be displayed in your user profile.



3.

Add a Photograph to Your Profile

If you provide a URL to a small image file, that image will be shown in your profile page. If you leave the Photo URL field blank, no image will be displayed. In this example, an image is part of my profile and is also shown here in the Edit Profile form.



NOTE

You can learn more about obtaining a URL for an image in 28 Other Methods for Inserting Images into Posts. Although your Blogger account profile is quite different than a blog post, Topic 28 discusses the act of externally hosting an image and retrieving a URL for it, which you need for this particular profile setting.

4.

Attach an Audio Clip to Your Profile

If you would like to provide your users with an audio clip of some sortyour own voice, a song, someone else's voice, and so onenter the URL in the Audio Clip URL field.



5.

Edit the General Settings

The settings in the General section are not required, but if present they are displayed at the beginning of your Blogger profile. Select the appropriate radio button for the Gender field, and enter the month and day (the year is optional) in the Birthday field. You can also specific an additional Homepage URL if you have a website besides your blog. If you have a Froogle wishlist, you can enter the URL in the Wishlist URL field, providing your users with a quick reference for potential birthday gifts. Finally, if you want users to have instant message access to you, enter your IM Username and select the type of messenger platform used.



WEB RESOURCE

http://www.google.com/frghp

Froogle is a Google-provided service that is essentially a search engine for items available for sale online. Froogle searches the Internet and returns a list of the best prices and most highly ranked sellers for items on your shopping list.

6.

Edit the Location Settings

If you enter a City/Town and Region/State and then select a country from the Country drop-down list, this location information will be presented in your Blogger profile. The text for each entry will be transformed into a link, and when that link is clicked you (and other users) will be able to see other Blogger members who reside in the same city, region, and country. For instance, if I enter San Jose in the City/Town field and then view my profile, I can click the words San Jose and see a list of all other registered Blogger users who live there.



7.

Edit the Work Settings

If you select an entry from the Industry drop-down list and provide text in the Occupation text field, this work-related information will be presented in your Blogger profile. The text for each entry will be transformed into a link, and when that link is clicked you (and other users) will be able to see other Blogger members who share your profession. For instance, if I select Internet from the Industry drop-down list and then view my profile, I can click the word Internet and see a list of all other registered Blogger users, worldwide, who work in this industry.



8.

Maintain the Extended Information

The About Me field can contain anything you want to say about yourself, up to 1,200 characters. This paragraph of text will be displayed on your Blogger profile. The other fields in the Extended Information section require that you separate your entries with commas, as shown here. For instance, in the Interests field I have listed five items separated by a comma. The same requirement holds true for the Favorite Movies, Favorite Music, and Favorite Books fields. Just like the Location and Work settings, the entries listed in these areas will become linkshence the need to separate the entries with commas. For instance, I have entered The Incredibles as one of my favorite movies. When I view my Blogger profile, The Incredibles will be a link I can follow to find other Blogger users who also like that movie.

The Random Question is a truly random (and usually strange) question generated by Blogger, which you may or may not choose to answer. If you do not like the random question you were given, simply select the Give Me a New Question check box and you will be given a new one the next time you visit the Edit Profile screen after saving your profile.



9.

Save Your Profile Settings

To save the changes you have made to your Blogger profile, click the Save Profile button. Your new profile will be immediately viewable to you and all others.