Picture Package is quite similar to Contact Sheet II, except it puts multiple copies of a single image on each page. The Source Images section works identically to that of Contact Sheet II. The Document section also works like Contact Sheet II, with the addition of a Layout menu that lets you choose various different layouts. The Label section offers a little more control over captioning than Contact Sheet II, including the ability to enter custom text (but not, unfortunately, different custom text for each image). Figure 9-16 shows the Picture Package dialog box.
Figure 9-16. Picture Package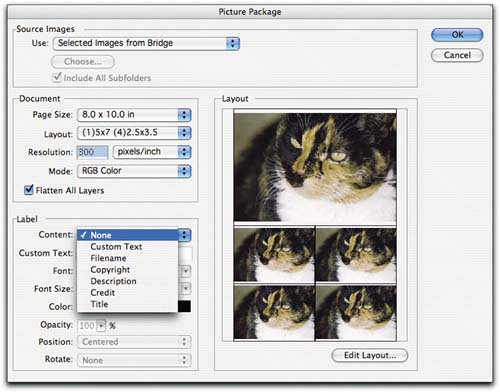 If none of the preset layouts is quite what you need, you can customize the layout by clicking the Edit Layout button to open the Picture Package Edit Layout dialog boxsee Figure 9-17.
Figure 9-17. Picture Package Edit Layout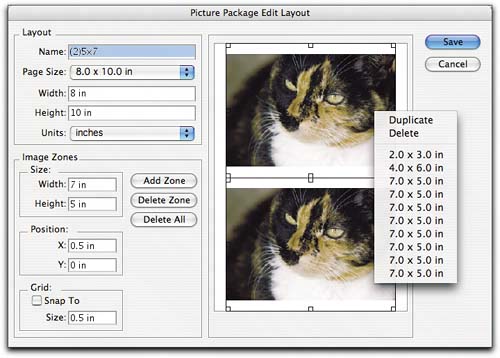 You can edit the layout either by clicking on the thumbnails and dragging the sizing handles to change size, or by dragging the entire thumbnail to move, or by entering numbers in the appropriate fields. The Add Zone and Delete Zone buttons let you add and delete thumbnails to the layout. One slightly odd feature is that if you Option-click on a thumbnail, a menu pops up when you release the mouse button, with commands to duplicate or delete the current thumbnail or add a zone using any of the preset sizes.
Like Contact Sheet II, Picture Package creates unsaved documents that are opened in Photoshop, ready for you to save or print.