PhotoMerge is Photoshop's autostitching routine for creating panoramas. While it's conceptually interesting that you can work directly from raw files, I usually find that it makes more sense to feed converted images to PhotoMerge. Often, one edge of an individual image needs different color balance and tone mapping than the other to create a seamless blend, and you can't do that with a raw image.
Figure 9-15 shows the PhotoMerge dialog box, which appears after PhotoMerge has opened the raw files and, if necessary, has downsampled them to 8-bit/channel mode.
Figure 9-15. PhotoMerge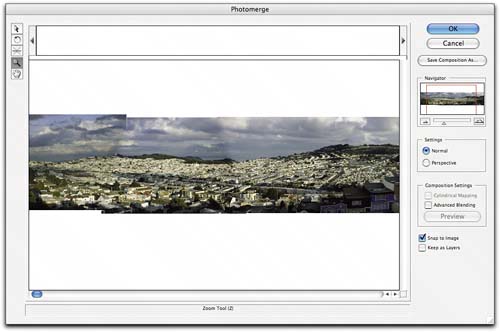 If you want to try working with PhotoMerge directly from raw files, I recommend checking the "Keep as Layers" option.