---
In this modern day of computing, many people have a CD writer, also often called a CD burner, on their PC. They often want to save files and even back up important information by burning it to a CD. To do this you will need two things. The first is the appropriate CD writer hardware installed on your computer. The second is some sort of CD writer software. GNOME Toastmaster is a CD writing application, and it is shown in Figure 14.14.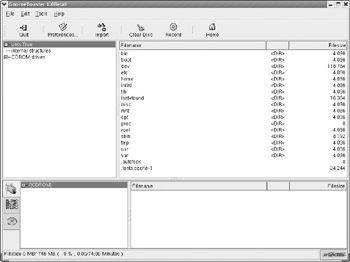 Figure 14.14: GNOME Toastmaster.
You drag files from the directory at the top to the small box at the bottom right. When all the files you want to write to a CD are collected, you are ready to create your CD. You click the Record button on the toolbar at the top. As with many applications, you can alter the way this one behaves in order to suit your individual needs or preferences. The configuration screen is found by going to Edit and Preferences and is shown in Figure 14.15.

Figure 14.15: Configuring GNOME Toastmaster.
The various tabs allow you to configure several different types of settings. There are a number of settings you can change here, but most of them are rather complicated and you are probably better off leaving the default settings.
---