83. Install and Use Antivirus Software

BEFORE YOU BEGIN

About Malware
Many antivirus programs are available for the Windows operating system: Norton Antivirus, Computer Associates EZ Antivirus, PC-cillin, and Kaspersky Anti-Virus, just to name a few. The antivirus software you actually use (and purchase) is really up to you. Although tests show that some antivirus programs are better at detecting and removing obscure viruses, having any antivirus software that is up-to-date is an important aspect of protecting your computer from malware invasion.
Tip
Most broadband Internet connection providers such as Verizon, Time Warner, AOL, and others provide you with free antivirus software. Some companies even provide antimalware suites that include antivirus, antispyware, and antispam products. Check with your Internet service provider before buying antivirus software because you might be able to download it for free.
Some antivirus programs are bundled in security suites that also include antispyware, spam email filtering, and even firewall software. Examples include AVG Anti-Virus plus Firewall Edition and Norton Internet Security 2005 AntiSpyware Edition. Because Windows XP already includes a personal firewall, you don't necessarily need to purchase an antivirus suite that also provides a software firewall. However, purchasing antivirus software that includes spam filtering and antispyware capabilities does make it easy in terms of having to update only one antimalware product instead of separate products for virus detection, spyware detection, and spam filtering.
Tip
Most antivirus software manufacturers allow you to download a trial version of the product. You can then purchase a license to continue using the product. Some antivirus programs also allow you to buy multiple licenses at a discount, which is ideal if you have several computers on the home network that need antivirus software. Remember that every computer needs its own license for the software. Don't be afraid to try different antivirus software. The products differ in terms of ease of use and effectiveness, so it is a personal choice. Check out reviews on the Web related to antivirus software and choose the best product for you and your computer.
When you run your antivirus software, you can continue to use the computer, but I think you will find that your computer will run slowly. It makes better sense to run the virus scan when you are not going to use the computer for a period of time, such as at night or during lunch.
Install and Use Antivirus Software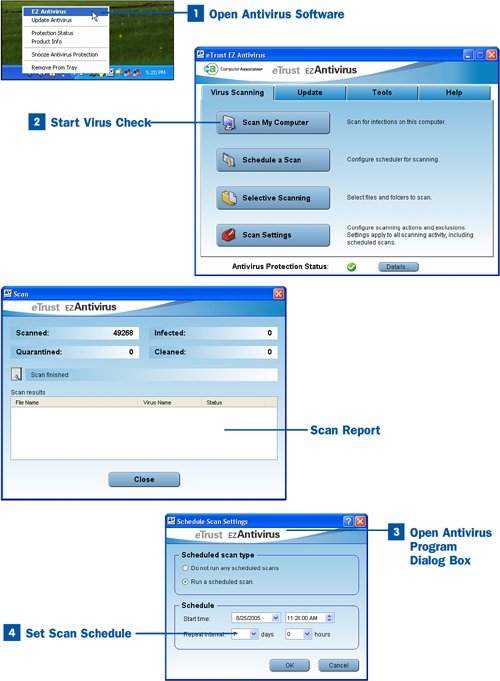 Open Antivirus Software

Right-click the antivirus program icon in the Windows System Tray and select the command that opens your antivirus software; for example, the EZ Antivirus command opens my EZ Antivirus software window.

Start Virus Check

Start the virus check by clicking Scan My Computer or a similar command in the antivirus software window. The antivirus software will check the boot sectors of your computer's hard drive for viruses and then check all your computer's files.

When the virus scan is complete, the software provides you with statistics related to the scan, such as the number of files that were scanned and whether or not any viruses were found and cleaned (or whether files were deleted to remove the virus). To close the message box related to the scan completion, click OK.

Tip

You can specify that the virus scanner look at only selected folders or drives on your computer. Click the Selective Scanning button or a similar command in your virus scanner's main window and then select the drives and folders you want the program to scan.




Open Schedule Scan Settings

It makes sense to configure your antivirus software so that it runs periodically. You can set up your virus scan to run at a time when you are not using the computer. How you configure your antivirus software to run automatically according to a schedule varies from software to software. In the case of EZ Antivirus, I click the Schedule a Scan button on the program's main screen.

Set Scan Schedule

To set the scan scheduling, click the Run a scheduled scan option button or a similar option. Then set the start date, start time, and the repeat interval. If you want the computer to be scanned once a week, for example, set the repeat interval to 7. It is up to you to set the interval for running your virus scan. Most antivirus software provides real-time antivirus protection and alerts you if a virus or other malware attempts to invade your system. Antivirus software doesn't necessarily catch all malware on the fly, however, so I suggest that you run your antivirus software at least once a week. Run it more often if you download a lot of files from the Internet or open email attachments sent to you by people you are not familiar with.

When you have completed setting your scan scheduling parameters, click OK to close the dialog box.
Tip
If a virus cannot be removed, the report provided by your antivirus software will detail this information and provide the name of the infected file or files. In some cases, you might have to update your antivirus software to clean the virus from your system. In other cases, you might have to follow special instructions provided on your antivirus company's website or download a "cleaning" program that removes the virus, worm, or Trojan horse that cannot be removed by the antivirus software.