84. Update Antivirus Software

BEFORE YOU BEGIN

About Malware

Install and Use Antivirus Software
It is extremely important that you keep your antivirus software up to date. New viruses and other malware are cropping up all the time, and manufacturers of antivirus software are working constantly to identify and eradicate the new malware threats. Software vendors frequently release updates to your antivirus software. Keep in mind that out-of-date antivirus software is almost as bad as having no antivirus software at all.
Many antivirus software packages automatically connect to an update site to check for new information every time you turn on your computer and Windows is up and running. However, this isn't always the case, so you need to make sure that the antivirus signatures (the file used to identify and clean viruses) are up to date. This means that you should know how to manually update the antivirus software. In terms of how often you check for updates, it doesn't hurt to do so every day because the download and installation process for the update is typically fairly short. New viruses and malware pop up every day, so why not make sure that your antivirus software is up to date every day?
Update Antivirus Software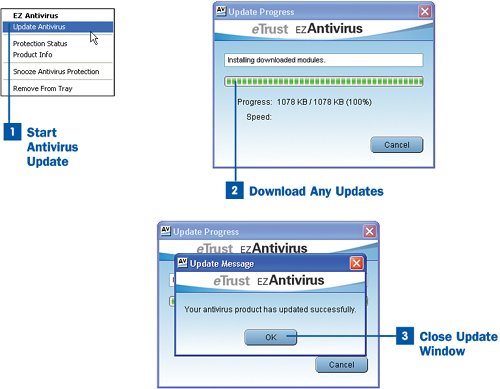 Start Antivirus Update

You can start the update for most antivirus software from the Windows XP desktop. Locate the icon for your antivirus software in the Windows system tray and right-click the icon. Select Update Antivirus or a similar command to open the antivirus update window. Some antivirus software does not put an icon in the system tray, but will provide a menu choice (which you can access after you start the software) that allows you to update the software. You will typically find this command on the Tools menu (or a similarly named menu).

Download Any Updates

The antivirus update program will connect to the software vendor's website and download any available updates. When the update files are downloaded, the software automatically installs the update files.

Close Update Window

When the update is complete, click OK to close the antivirus update window.
Note
If the antivirus software is already up to date, a message box appears letting you know that no new updates are available. In this case, you can close the update window immediately.