Both drives and folders can be shared on a Windows network and the server that supplies these types of services is typically referred to as a file server. A file server provides a repository for files that must be accessed by the users on your network. Not only do file servers provide data access to users but they also often serve as a place where users can save files, either in a home directory or a directory that can also be accessed by other users.
A Windows file server can be created using the Configure Your Server Wizard. A share is simply a drive or folder that you share for access by your users. After specifying the server as a file server using the Configure Your Server Wizard, the Share a Folder Wizard starts automatically; click Next to bypass the initial wizard screen.
The next screen asks you to supply the path to the folder or drive that will serve as the new share. You can type the path in the Folder path box (see Figure 9.6). Or you can use the Browse button to locate the folder or drive on the computer. The Browse dialog box also provides you with the option of creating a new folder on a drive and then specifying it for the new share.
Figure 9.6. Specify the path of the folder for the share.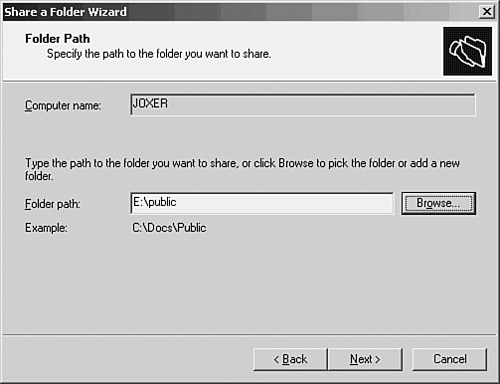 After specifying the path for the new share, click the Next button. On the next wizard screen you are asked to provide a share name for the new share. After supplying the name for the share, click Next to continue. The next wizard screen relates to the permissions of the folder. Different permissions levels can be assigned to your users in relation to the share and the items that it holds. We will discuss share permissions in the next section.
To complete the share creation process, click Finish. This will create the new share. Click Close to close the wizard's summary screen. The Configure Your Server Wizard will appear, letting you know that this server is now a file server.
Once the share has been created on the server, users on the network will have access to the files held in the share. The level of access that a particular user will have depends on the share permissions that have been provided for the user .
Tip
| | |
| --- | --- |
| | Shares can quickly be created using any folder on a Windows server. Right-click on the folder in Windows Explorer and select Properties. On the Sharing tab of the folder's Properties dialog box, share the folder. On this tab you can specify the name for the share on the network. |