Working Modes
There are two modes available in the Score editor for SX: Page mode and Edit mode. In Cubase SL, you will only have access to the Edit mode. You can do most functions in Edit mode, which is the standard mode for editing. As mentioned earlier, you can toggle between Page and Edit through the Score menu's top option. The advantage of working in Page mode is that you can see how your page is laid out and add layout graphics, text, and annotations. Figure 16.22 shows the Page mode display with the title and copyright information properly displayed, and Figure 16.23 shows the Edit mode display. Notice the difference in the placement of text such as title and copyright information.
Figure 16.22. The Page mode display (SX only).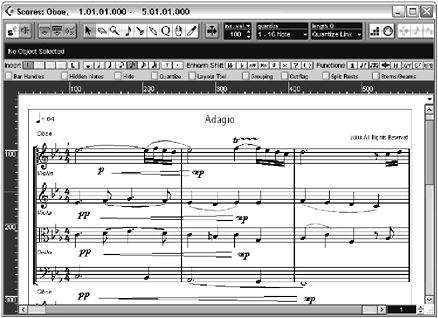 Figure 16.23. The Edit mode display.