The options found in the User Preferences (shown in Figure 19.1) dialog box enable you to change settings that affect your workspace such as when Notes scans for unread documents, when your trash is emptied, and whether Notes saves a copy of the mail you send. To open the User Preferences dialog box, choose File, Preferences, User Preferences.
Figure 19.1. Keep in mind that some of the Preference settings won't take effect until the next time you start Notes. When the change requires that you restart Notes you'll see an alert to that effect after you click OK.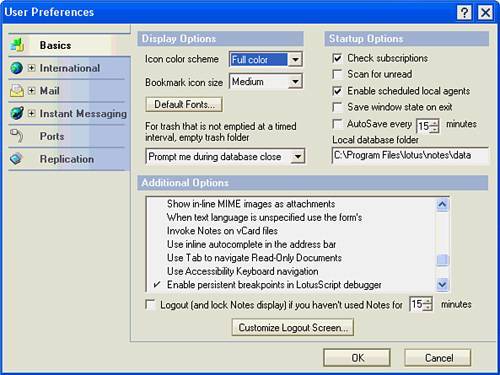 | | |
| --- | --- |
| | More Information This chapter covers only the common, most basic options you can customize in User Preferences. If you need more information about customizing User Preferences, press the F1 key while viewing the User Preferences dialog box to access Lotus Notes Help. |
The User Preferences dialog box gives you access to change your preferences in six areas: Basics, International, Mail, Instant Messaging, Ports, and Replication. The dialog box opens with the Basics section highlighted (refer to Figure 19.1). Table 19.1 describes areas where you might want to make changes. Before making changes in the dialog box in areas not covered here, please consult with your system administrator.
Table 19.1. User Preferences Basics Options

| Option | Description |
| --- | --- |
| Display options | Choose your icon color scheme, bookmark size, and default font in this section. You can also decide when you want your Trash folder emptiedautomatically during database close, when you are prompted at database close, or manually. |
| Startup options | Contains check boxes for commands that are performed automatically when you open Notes. If you are set up to use subscriptions, select the Check Subscriptions check box to display new additions when you open Notes. Place a check mark in the Scan for unread check box if you want Notes to look for unread messages and documents. Check Save window state on exit to have the same window tabs you had open when you exited Notes last. To have Notes automatically save your open documents at a specified interval, check AutoSave every n minutes. |
| Logout (and lock Notes display) if you haven't used Notes for n minutes | A security measure that prompts you to type in your password if Notes has been inactive for a designated number of minutes. |
| Additional options | Contains a list of options that control how you use Notes. A checkmark appears beside active options. Click an option to select or deselect it. Use the scrollbar on the right of this window to see all avail able options. |
| Customize Logout Screen | Enables you to select an image to appear on the logout screen. |
| | |
| --- | --- |
| | If you're unsure of an option's meaning, read about the option in the Notes Help system before you activate it. Also, check with your system administrator or Notes Help Desk before you make advanced settings if you are unsure of the results. If you do check an option and you don't like the results, open the User Preferences dialog box and deselect it. Your system administrator can implement policies that may override user preferences. If so, preferences you select today might be reverted in a day or so. If that is the case, consult with your system administrator. |
Most of the International settings are determined when the Domino server or your workstation are set up. For the most part, you should leave the settings as they are pictured in Figure 19.2. Table 19.2 explains some of those options. Click the + sign next to International to reveal three subsections: General, Spell Check, and Calendar.
Figure 19.2. Most International options never need changing because they are set when Notes is installed on your workstation.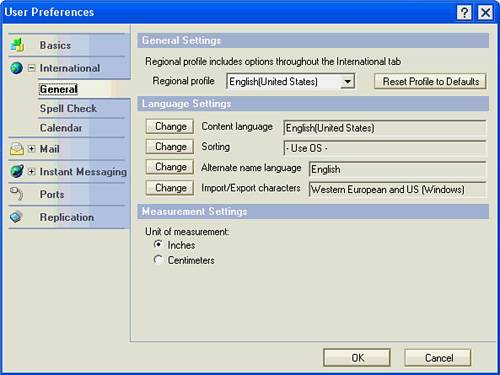 Table 19.2. International Options

| Option | Description |
| --- | --- |
| General | Select the default language and unit of measure settings for Notes. |
| Spell Check | Select your dictionary (language), and when you need to edit your personal dictionary, click Edit User Dictionary. Editing the user dictionary enables you to view words you've added to your user dictionary during spell checking. You can add, update, and delete any of these words. (For more information on using spell check, see Chapter 3, "Email Basics.") You can also install specialized dictionaries here. |
| Calendar | By default, the Calendar View starts on Monday as seen in Chapter 9, "Using the Calendar." You can select a different day of the week if your work week does not begin on Monday. You also can set defaults for the date picker here, or select a secondary calendar. If you want a second time zone to display in your calendar, you set that here. |
As seen in Figure 19.3, you can change Mail options by clicking the Mail icon in the User Preferences dialog box, which opens two subsections: General and Internet. Table 19.3 describes some of the mail options you might want to change.
Figure 19.3. Mail options are changed in this section of the User Preferences dialog box.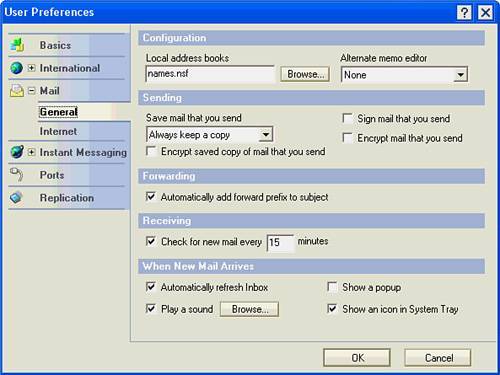 Table 19.3. Mail Options

| Option | Description |
| --- | --- |
| GeneralConfiguration | Local Address BooksBy default, Notes uses your local address book, called names.nsf. You can add more than one address book so Notes uses two or more address books, but this requires you to name the address books differently; for example, names.nsf, names2.nsf, and so on. For more information on how to do this, search the Help database for "local address books." |
| | Alternate memo editorThis advanced Mail feature enables you to use either Microsoft Word or Lotus WordPro to create mail messages. In order for this option to work, you must have Word or WordPro installed on your workstation. |
| GeneralSending | Save mail that you sendControls whether Notes always keeps a copy of the mail messages you send, never keeps a copy, or prompts you so you can decide at the time you send the message whether to keep a copy of the message. |
| | Encrypt saved copy of mail that you sendTells Notes to always protect the mail you save so others cannot view it. |
| | Encrypt mail that you sendEncrypts all the messages you send. |
| | Sign mail that you sendTells Notes to always add a digital signature to your mail. |
| GeneralForwarding | Automatically add forward prefix to subjectFills in the subject line using text from the original memo preceded by "Fw." |
| GeneralReceiving | Check for new mail every (fill in) minutesThe default value for checking for new mail while connected to the server is 15 minutes. Change this value if you need to. |
| GeneralWhen new mail arrives | Automatically Refresh InboxChoose this option so Notes displays new messages in your Inbox upon receipt. If you deselect this option, a refresh icon will appear in the header of your Inbox and you'll need to click the Refresh button or press F9 to display new messages. |
| | Play a soundControls whether Notes sounds a beep or any other sound upon receipt of new mail. You can select a different notification sound by clicking on the Browse button and then selecting the sound from the list. Notes or Notes Minder must be running for audible notification to work. |
| | Show a popupChoose this option so Notes displays a pop-up message on your screen when you receive new mail. Notes or Notes Minder must be running for visible notification to work. |
| | Show an icon in System TrayChoose this to have Notes notify you of new mail by placing an icon in your Windows system tray. Notes or Notes Minder must be running for visible notification to work. |
| Internet | Internet options control the behavior of mail with regard to sending mail through the Internet. Consult the Help database or your system administrator before you change settings in this section. |
The Instant Messaging options set up how chat works for you, what messages people see when you invite them to chat or join an instant meeting, what messages appear when people check your online status, and how you are alerted when a chat message appears (to learn more about instant messaging, see Chapter 18, "Instant Messaging").
The Ports options determine how your workstation connects to the Domino server. Do not change these setting unless you are instructed to do so by your Domino system administrator.
The Replication section of the User Preferences dialog box controls how Notes behaves during replication. Some of these options are discussed in Appendix B, "Understanding Replication," and Chapter 17, "Using Notes Remotely."
When you finish changing settings in the User Preferences dialog box, click OK to close it.