You can use horizontal dividing lines to separate different parts of your document. Although horizontal dividing lines are typically used in Web pages, you can insert them into any type of Word document to help organize the document's contents. Adding a horizontal dividing line provides an alternative to applying a horizontal border above or below a paragraph. Unlike a border, a horizontal dividing line is a separate document element that you can independently select, move, delete, or format. Also, while a border is drawn using only simple lines, you can use a graphic image for a horizontal dividing line, so it can serve as a decorative element consistent with the overall look of your document. Figure 9-15 shows a simple document containing horizontal dividing lines.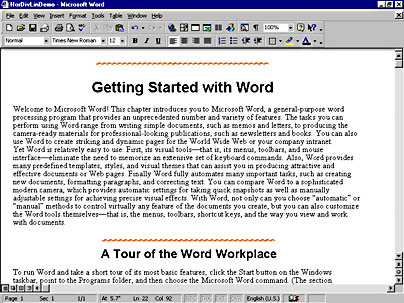 Figure 9-15. Horizontal dividing lines used to separate parts of a document.
To insert a horizontal dividing line, place the insertion point at the position where you want to divide your document. The horizontal dividing line will be inserted immediately before the insertion point and will be placed on a separate document line (in its own paragraph). Then, choose Borders And Shading from the Format menu, and click the Horizontal Line button at the bottom of the Borders And Shading dialog box. This will open the Horizontal Line dialog box, where you can select the horizontal dividing line that you want: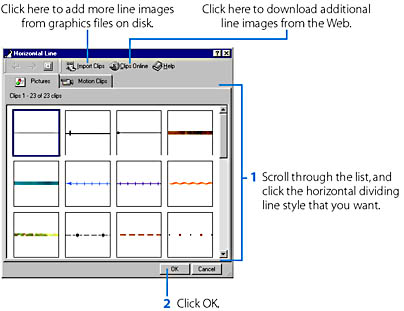 ON THE WEB

---

The HorDivLinDemo.doc document file, used for the example in Figure 9-15, is on the Running Office 2000 Reader's Corner page.
Once you have used this procedure to select and insert a horizontal dividing line, you can rapidly insert additional dividing lines that have the same style. You do this by clicking the down arrow next to the Borders button on the Formatting toolbar or on the Tables And Borders toolbar and then clicking the Horizontal Line button:

As a further shortcut, once you have clicked the Horizontal Line button on the palette, you can insert additional dividing lines by clicking the Borders button on the Formatting toolbar.
To modify a horizontal dividing line you have inserted into a document, click it to select it. You can then drag it up or down to move it to a new location in the document, or you can press the Delete key to remove it. You can also choose Horizontal Line from the Format menu (or just double-click the dividing line) to open the Format Horizontal Line dialog box, where you can modify the width, height, alignment, or other attributes of the dividing line. Note that applying a theme to the document will modify the horizontal dividing lines throughout the document.