Using Tiger with MS Exchange
Tiger offers rudimentary Exchange support in the form of Address Book synchronization and the capability to connect to an Exchange server via IMAP and Outlook Web Access. No, this does not mean that you'll be synchronizing calendars and scheduling with your Windows brethren. It does mean, however, that the Mail application can read email from an Exchange server, and Address Book can synchronize with your Exchange contacts.
Configuring Mail to Work with Exchange
To use Mail with Exchange, the Exchange server must be configured for IMAP (Internet Message Access Protocol) support. If the server also supports Outlook Web Access, the OWA server can be specified so that non-email related information is filtered from the email. If OWA is not available, Mail still can access the account but might display extraneous information that, although useful in Outlook, has no purpose in Mac OS X. To add an Exchange IMAP account to Mail, follow the instructions in Chapter 3, "Using the Tiger Internet Application Suite," but, when choosing an account type, pick Exchange, as shown in Figure 27.5.
Figure 27.5. Configure your Mail application to access Exchange.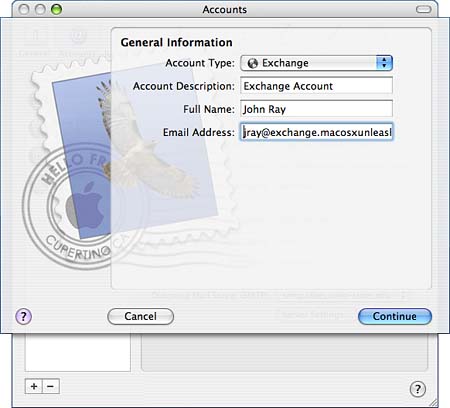 You will be prompted for the same information as IMAP, with the exception of the Outlook Web Access Server. Again, this is an optional field; talk to your network administrator to determine whether OWA is even available for your server. After the account has been configured, Mail operates identically to a standard IMAP account. Refer to Chapter 3 for more information.
Configuring Address Book to Work with Exchange
Address Book supports synchronization with Exchange's contact information by way of Outlook Web Access. To configure synchronization, start Address Book and open the General application preferences pane. Check the Synchronize with Exchange check box, and then click Configure. A dialog appears as shown in Figure 27.6.
Figure 27.6. Configure Address Book synchronization with Exchange.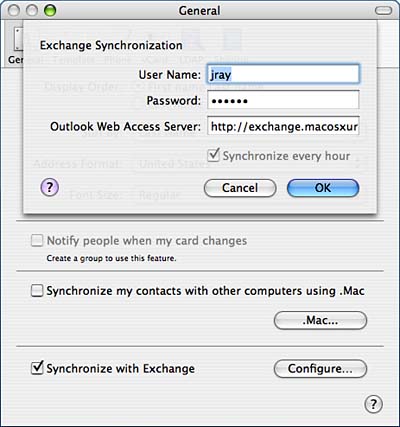 Enter your Exchange username and password along with the address or hostname of your Outlook Web Access Server. If OWA is not available, synchronization will fail.
Click the Synchronize Every Hour check box to automatically synchronize hourly via iSync. If this is not checked, you can force a synchronization at any time using the iSync menu extra or by clicking Sync Now in iSync.
To disable synchronization, you must return to the General pane of the Address Book preferences. It cannot be removed from within iSync.