Basic Project Server configuration validation consists of defining roles and representative users for these group definitions in Project Server 2003 and conducting role test cases. The tests verify that the role has the proper access to the features and functions in Project Server for the role they are performing in the business process. These roles include portfolio managers, project managers, resource managers, executives, team leads, and team members. Each user is created with Project Server authentication and assigned to the corresponding role group.
User Role Validation
Start the validation process by defining the roles in Project Server. Create multiple users for each of the default groups predefined in PWA, as shown in Figure 12.20. Having more than one user for each group is used in the next section for validating data access requirements from the configuration.
Figure 12.20. Create a user for each role people will have in the system and then validate proper configuration based on the test user roles.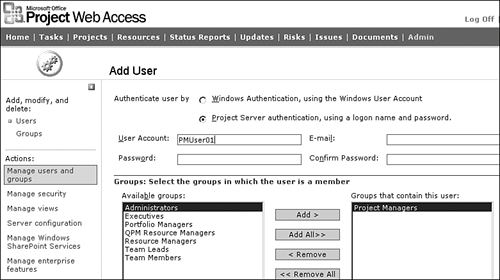 Security Setup Validation
Run test case scenarios for each user or group of users. Start with the roles that create and manage project and resource data first. Then continue with project team roles and the decision support roles such as executives and portfolio managers. Each scenario should confirm proper feature and function capabilities required by each role.
Data Access Validation
Verify that each user or group has the correct data access for the role the user or group represents.
NOTE
Note what data is available to see and edit during the test case scenarios.
Keep the users created for this validation to use in the business process validation. Delete any project test data created to validate functionality.