Before You Begin

81 Preview Your Final Movie
See Also

94 Download the Movie Maker Creativity Fun Pack
The Movie Maker Creativity Fun Pack includes extras that you can add to your movie, such as
Video titles

Music

Sound effects
If you only want the extra titles, or you only want the music and sound effects, you can elect to download only a partial Movie Maker Creativity Fun Pack. You might do this if you have a slow Internet connection ( see 94 Download the Movie Maker Creativity Fun Pack ).
Microsoft describes the quality of the fun pack's sound and music extras by stating that they come from SoundDogs.com , a popular sound effects Web site. The sound effects from the site have been added to popular Hollywood movies, including Meet the Parents, Wonder Boys, As Good As It Gets, The Green Mile, Titanic, Stuart Little , and Jerry Maguire .
SoundDogs.com has more than 155,000 sound effects, music clips, and samples online.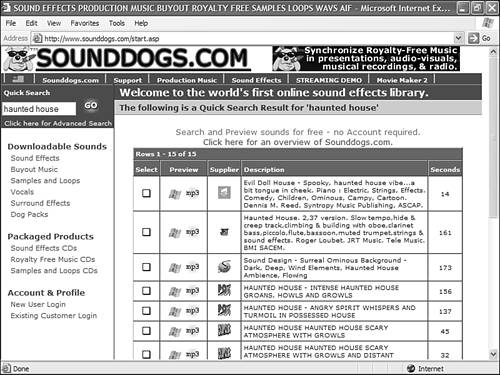 The SoundDogs.com -supplied music tracks include three complete songs you can use in your movies, as well as five music transitions you can use between scenes to help transition your audience from one scene to another. In addition, the Movie Maker Creativity Fun Pack includes 50 sound effects you can add to make your movie moments come alive .
TIP
| | |
| --- | --- |
| | Microsoft offers several Creativity Fun Packs, such as one for Windows Media Player and one for digital photography. You can sample them all at the Creativity Fun Pack's Web site at www.microsoft.com/WindowsXP/experiences/create (all the Creativity Fun Packs are free for your download and use). |
The Movie Maker Creativity Fun Pack also contains several titles and end credits that add new flavors to the assortment Movie Maker already provides you. You will get countdown titles (such as a countdown to the start of the movie), a The End ending credit you can use, as well as several formatted blank video titles for which you can add the text. In addition, the Movie Maker Creativity Fun Pack provides several static video titles that you can use as-is or with your own titles added. These include popular holiday backgrounds and themes.