Exchange System Manager (ESM) was first introduced with Exchange 2000 as a replacement for the Exchange Administrator used in previous versions of Exchange. Exchange System Manager is a specialized, preconfigured Microsoft Management Console (MMC), Exchange System Manager.msc, which helps you manage your Exchange organization. This file is located in the \Program Files\Exchsrvr\Bin directory. Unlike Exchange Administrator, ESM is an integrated toolbox that can be run along with other tools (Active Directory Users and Computers, Internet Services Manager, Event Viewer, and so on) in the same console, using context menus, by right-clicking with a mouse. When administrators perform a typical installation of Exchange 2003 onto a server, the installation wizard installs the Exchange System Management Tools onto that server by default. If the tools installed are not selected during setup, they are not installed during the Exchange Server software installation.
As Figure 4.1 shows, Exchange System Manager provides a GUI with a two-pane view of Exchange objects, with a console tree on the left and a details pane on the right. Administrators can manipulate some objects using a drag-and-drop operation. The ESM tool allows configuration of server settings, such as the following:
Global Settings for all Exchange servers in the organization

Address lists, templates, and policies for recipients

Mailbox store, public folder, and server system policies

Connectors for Novell GroupWise and Lotus Notes

Message tracking, monitoring, and site replication
Figure 4.1. The Exchange System Manager main screen.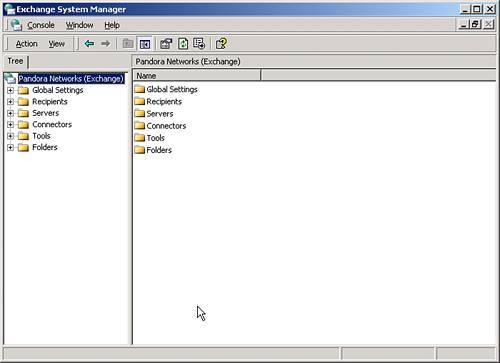 The preceding list is not complete; many more settings are available for configuration. As in an integrated toolbox, Exchange System Manager provides a consistent administrative interface for administrators who deal with all areas of Exchange server management, including policies, public folders, servers, and routing.
System Manager is available in the Microsoft Exchange Program group on the Start menu. You can view context menus for each object by right-clicking the object.