This chapter presents you with the lighter side of Red Hat Linux. From games and toys to audio and video applications, Red Hat Linux provides many packages to let you have some fun with your computer.
Playing CDs
To play an audio CD, place the CD in your CD-ROM drive and click Main Menu > Sound & Video > CD Player to open the CD Player application.


Figure 14-1. CD Player Interface
The CD Player interface acts like a standard CD player, with play, pause, and stop functions. There is also a sliding bar that allows you to adjust the volume. You can press the Next track and Previous track buttons to skip forward or backward one track; you may also use the Track List drop-down menu to choose a track from the available menu.
You can edit the track listings for your CDs by clicking the Open track editor button. You can also change the way the utility functions by clicking on the Open Preferences button. Here you can set themes for the player as well as set the behavior of the CD-ROM drive when you open or quit the CD Player application.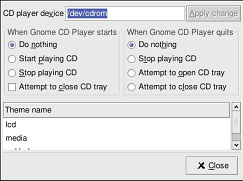 Figure 14-2. CD Player Preferences