Digital audio has become very popular in recent years. Users enjoy the technology because the sound quality is excellent compared to analog tape or records, and the files are compact, so an audio file can easily be transferred across the Internet.
To allow you to take advantage of this technology, Red Hat Linux includes the powerful X Multimedia System (XMMS), a cross-platform multimedia player that allows you to play several digital music file formats.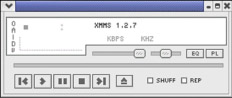 Figure 14-3. XMMS Interface
XMMS can be used for more than just playing digital audio files. By default XMMS can play Ogg Vorbis, RIFF wave, and most module formats. XMMS can be extended through plugins to play a number of other digital multimedia formats.
To launch XMMS, click the Main Menu button and choose Sound & Video > XMMS (or type the command xmms to launch XMMS from a shell prompt).
To learn more about XMMS, refer to the XMMS man page by typing man xmms at a shell prompt.