In version 8.0, Red Hat Linux offers a wealth of choices of Web browsing and email software for the Internet aficionado. This chapter describes the major applications that you can choose from in Red Hat Linux 8.0 for your Web browsing and email needs.
Web Browsing
After you have configured your Internet connection (see Chapter 12), you are ready to get online and start surfing. Red Hat Linux comes with several open source browsers for you to choose from. This chapter briefly explains how to surf the Web using the following browsers:
Mozilla

Nautilus

Konqueror

Galeon
Mozilla
Mozilla functions like any other Web browser. Mozilla has fairly standard navigation toolbars, buttons, and menus.
If you have previously been using Netscape as your Web browser and performed an upgrade of Red Hat Linux, the first time that you start Mozilla you will not see the main Mozilla browser (shown in Figure 13-5). Instead, you will first see Mozilla asking to convert your Netscape profile.


Figure 13-1. Mozilla Profile Creation
If you click Convert Profile, your prior Netscape bookmarks and preferences will be converted to a Mozilla profile for you. When you next launch Mozilla, either from the panel or by clicking the Main Menu button and choosing Internet > Web Browser, you will see that your previous bookmarks are now available in Mozilla.
If you click Manage Profiles, you will have the opportunity to create one or more profiles, or user accounts, for Mozilla.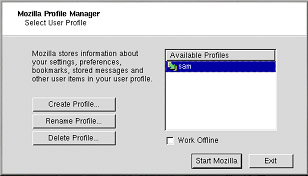 Figure 13-2. Mozilla Profile Manager
Here you can choose to create a new profile or to create a profile based on your existing user account. This feature helps you stay organized by creating separate user accounts for business use, personal use, etc.
Clicking Create Profile will take you to an information screen explaining what this process entails. To continue, click Next.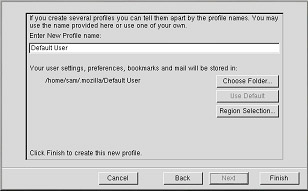 Figure 13-3. Profile Configuration
Next, choose a name to use for this new profile. If you do not enter a name, the profile will be called Default User.
You can also click Choose Folder to select where your Mozilla settings and preferences will be stored. By default, these settings are stored in the following directory:
/home/youraccountname/.mozilla/Default User
When you click Finish, your new profile will be added.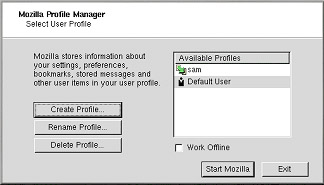 Figure 13-4. Profile Screen with New Profile Added
Now that you have created a user profile, click on Start Mozilla to launch the application or click on Exit to close it.
To add new profiles or delete existing profiles later on, you will need to run the Mozilla Profile Manager again. To launch the Mozilla Profile Manager, at the shell prompt type the following command:
mozilla --ProfileManager
Mozilla Web Browser
After you have configured your user profile, you are ready to use the browser. To access Mozilla, click the Web browser launcher on the panel or click the Main Menu button and choose Internet > Web Browser.
The Mozilla screen has all of the standard Web browser functions that other browsers have. There is a main menu at the top of the screen and a navigation bar below it. There is a sidebar on the left that contains additional options. And in the bottom left corner, there are four small icons: Navigator, Mail, Composer, and Address Book.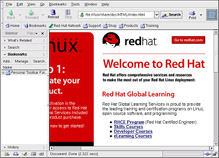 Figure 13-5. Mozilla Main Browser Window
To browse the Internet, click on Search and enter a topic in the search engine that opens, type a website URL in the location bar, click on and create bookmarks, or check the What's Related sidebar tab to see pages related to the one you are viewing currently.
| | | |
| --- | --- | --- |
| | Tip | Mozilla allows you to browse multiple websites within one browser window using navigational tabs. Instead of using two separate windows to read Web pages, you can open a tab by clicking File > New > Navigation Tab or by pressing Ctrl-t. This will open a new tab and allow you to switch between tabs by clicking on them. To close a tab, click the X button at the right of the tab toolbar. |
For additional information on using Mozilla, choose Help > Help Content.
Mozilla Composer
You can use Mozilla Composer to create Web pages. You do not need to know HTML to use this tool, as Composer is a WYSIWYG (what you see is what you get) HTML editor.
To open Composer, go to Tasks > Composer on the Mozilla main menu, or click on the Composer icon in the lower left part of the screen.
The Mozilla help files provide information on creating Web pages with Composer. To access help files for Composer, choose Help > Help Contents. When the help screen opens, click on the Contents tab and expand the Creating Web pages menu by clicking on the arrow next to it. A list of topics will appear and clicking on any of these will provide you with information for creating and editing Web pages using Mozilla Composer.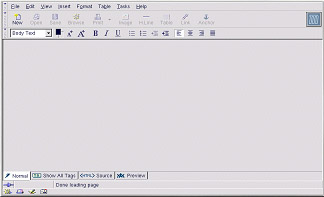 Figure 13-6. Mozilla Composer
Nautilus
Nautilus is a core component of the GNOME desktop environment and provides an easy way to view, manage, and customize your files and folders, as well as browse the Web.
Nautilus integrates your access to files, applications, media, Internet-based resources, and the Web, making it convenient for you to locate and use all the resources that are available.
If you are using Nautilus, browsing the Web is always just one mouse click away. Click Web Search in the toolbar to launch the Nautilus Web browser feature.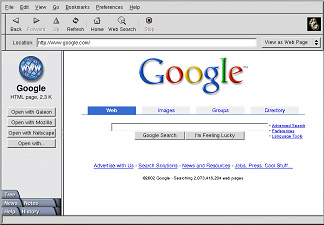 Figure 13-7. Nautilus Web Search
You can also use the Location: bar to enter path names, URLs, or other types of addresses.
When you are viewing a Web page, Nautilus gives you additional browser choices in case you want to use a full-featured Web browser. To select a different browser, click one of the buttons in the sidebar.
For additional information on using Nautilus, choose Help > Nautilus User Manual or Help > Nautilus Quick Reference.
Konqueror
Konqueror not only allows you to browse your local and network file system, but with component technology used throughout KDE, Konqueror is also a full featured Web browser that you can use to explore the Internet.
To launch Konqueror, click the Main Menu button and choose Extras > Internet > Konqueror Web Browser.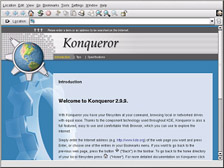 Figure 13-8. Welcome to Konqueror
When you first launch Konqueror, you will be presented with an Introduction screen. This screen offers basic instructions for browsing a Web page or your local file system.
If you click Continue, you will be presented with the Tips screen. This screen shows you basic tips for using Konqueror so that you can begin to take advantage of the features.
By clicking Continue from the Tips screen, you will see the Specifications screen. This screen displays information on supported standards (such as Cascading Stylesheets, plug-ins, and OpenSSL), featured protocols, and more.
To begin your first Web search, enter a URL in the Location: field.
For additional information on using Konqueror, choose Help > Konqueror Handbook.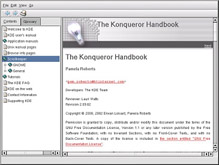 Figure 13-9. The Konqueror Handbook
Galeon
Galeon is a GNOME browser based on Mozilla. Unlike Mozilla, which is a full-featured suite of Web applications, Galeon is only a Web browser; it does not feature email, newsgroups, or anything other than Web browsing and searching.
To use Galeon, a working installation of Mozilla is required. Galeon uses Mozilla's rendering engine to display content. If you cannot run Mozilla, it is doubtful that you will be able to run Galeon.
To launch Galeon, click the Main Menu button and choose Extras > Internet > Galeon. The first time you launch Galeon, it will take you through the configuration process.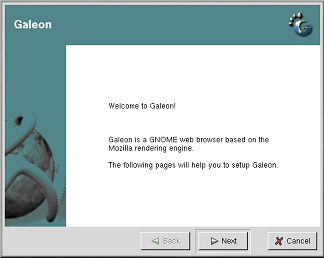 Figure 13-10. Configuring Galeon
During the initial configuration, you have the option of importing bookmarks from Netscape or Mozilla, as well as some preferences from Netscape if you have been using it as your previous Web browser.
After you have finished your configuration of Galeon, the main browser will appear.
Tip

Like Mozilla, Galeon also has a navigational tab feature that can help you avoid having your desktop cluttered with browser windows. Multiple pages can be stored in a single Galeon window, and you can switch between them by clicking on each tab. To launch a new Tab, use the Ctrl-T key combination or choose File > New Tab. The tabbed browsing mode can be configured in the Tabs page of the Preferences Window.


Figure 13-11. Online with Galeon
For additional information or help with Galeon, choose Help > Galeon FAQ or Help > Galeon manual.