A primary difference between the issues and tasks lists is that the issues list tracks the comments added to issues as they are worked on and makes them accessible to site users who want to view them at a later date.
Figure 8.5 shows the history of issue 1, accessible by clicking the title of the issue or by hovering the mouse over the title of the issue, clicking the down arrow, and selecting View Item. The View Item page (referenced as DispForm.aspx in the URL) shows the details of the issue, when it was created, and when last modified, as well as a related issue (issue 6 in the example) and the issue history, which captures the comments entered when the issue was edited and time stamps the comments.
Figure 8.5. View of issue details and history.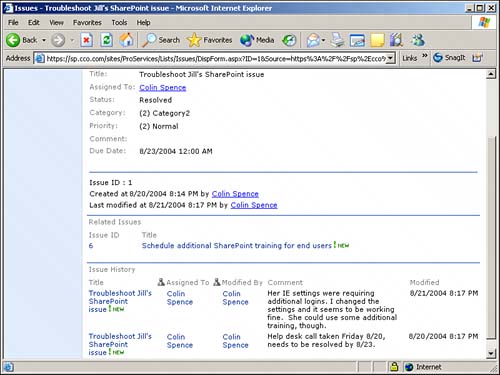 The issues list also has a handy feature that, when activated by the Site Administrator (available by accessing Modify settings and columns, Change general settings and then setting Email Notification to Yes), sends an email to the individual to whom the issue is assigned and notifies that person if the issue changes.