Business-to-Business Marketplaces and Exchanges
One of the more innovative and successful Internet-based e-commerce efforts is the business-to-business marketplace. The B2B marketplace is designed to bring buyers and sellers together in one location, allowing them to buy and sell from each other. At the time of this writing, hundreds of marketplaces exist focusing on nearly every vertical and horizontal business segment. The basic idea of a marketplace is to use the Internet to match buyers and sellers as effectively as possible along the entire length of the value chain.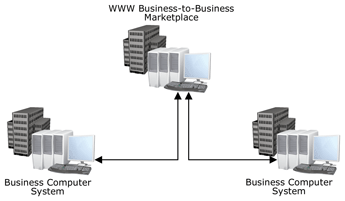 B2B marketplace
Regardless of the size of the business, a B2B marketplace promises to add value mainly in two ways.
B2B sites hope to better match buyers and sellers of products and services. This should enable buyers to purchase at lower prices and allow sellers to broaden customer reach. In addition, B2B sites hope to lower administration costs associated with the procurement process for both buyers and sellers.
B2B sites can add value by facilitating fulfillment services before and after a sales transaction. Such services may include providing for payment and credit arrangements, coordinating distribution and logistics schedules, integration with financial systems, settling and clearing transactions, settling disputes between participants, and even the inspections of goods.
The decisions involving whether or not a business participates in B2B marketplaces, how to participate, and at what level of involvement are complex and not going to become easier. Companies must evaluate how B2B marketplaces can help improve procurement and supply chain efficiency. Executives must be specific about what will work for their organizations.
It is even possible that joining a B2B marketplace could undermine the current competitive position a company may have. For example, if Company A were to join a marketplace for sourcing and find that its competitors are also members, the competitors could stand to gain greater benefit from the cost savings.