Now that you have inklings about the Admin interface in Project Web Access, it's time to explore the desktop client's substantial role in configuration. You can perform certain configuration work only in the Project Professional client. This includes the customization of fields and outline codes as well as enterprisewide customizations to the Project Professional interface. Most important, understand that very little project or resource data gets changed through the Project Web Access interface. This is primarily a Project Professional function.
At the bottom of the tools menu, shown in Figure 8-6, three selections, Organizer, Customize, and Enterprise Options, come into play for configuration.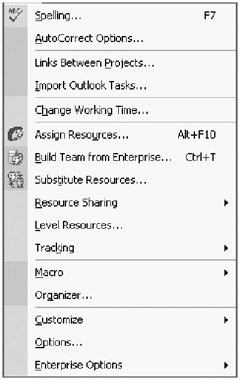 Figure 8-6. The Tools menu
Four of the five selections on the Customize menu, shown in Figure 8-7, pertain to enterprise configuration. The Fields selection refers to nonenterprise fields and is therefore not relevant to this discussion. Enterprise fields, on the other hand, is a selection you'll make often during the initial configuration. This is where you create custom enterprise outline codes and fields. Changes made to the Toolbars and Forms selections are globally available for all users. Published Fields refer to the fields that users see on their timesheet.


Figure 8-7. The Tools

Customize menu
The Enterprise Options menu, shown in Figure 8-8, reveals a number of selections that you'll use constantly when configuring and building your system. The menu items Open Enterprise Global and Open Enterprise Resource Pool are used to update custom information contained in these information entities. The import wizards launched by the selections Import Project to Enterprise and Import Resources to Enterprise are essential to a speedy initial system data load. The Backup Enterprise Global and Restore Enterprise Global options aren't configuration-specific functions; however, you'll use them periodically during configuration as insurance against missteps.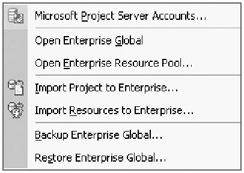 Figure 8-8. The Tools

Enterprise Options menu
Another menu selection you'll use on the Tools menu to perform system-wide customization is Change Working Time to add and modify calendars. This simply becomes a global operation when you check out the enterprise global.
Those of you who have exercised Project client customization in the past will already be familiar with the Organizer shown in Figure 8-9. In previous versions you used it to copy project artifacts from project to project or into and out of the global.mpt file. Now it is also useful as a conduit for importing custom artifacts into the enterprise global, including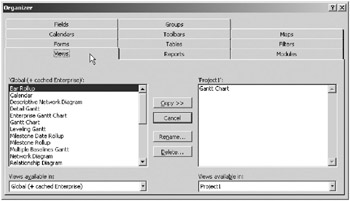 Figure 8-9. The Organizer interface
Views

Forms

Calendars

Groups

Toolbars

Tables

Reports

Modules

Filters

Maps