This nifty program allows you to search, bid, and monitor items on eBay.
eBay provides a nice WAP interface for you to access many features of the service from your BlackBerry Browser. It allows you to search for items, make bids, and access auctions you are watching, but it is limited in a few ways. The interface is a little clunky (it is a WAP interface, after all) and you can access only certain eBay features for example, you can't save or view previous searches you have made.
There is an excellent program from Abidia called Abidia Wireless (available for a one-time charge or a monthly subscription) that gives you more access to eBay features in a nice interface for your BlackBerry. There are versions for BES and non-BES BlackBerry users.
There are a number of ways to install Abidia Wireless. You can install it over the air from Abidia's WAP interface at http://wap.abidia.com. There is also a download for Application Loader if you want to install over your USB cable at http://www.abidia.com/install/pc. Another unique way that Abidia allows you to install their software is using SMS. Go to http://www.abidia.com/install/sms and enter your wireless phone number and carrier, and Abidia will send you an SMS message with the download URL to the over-the-air install. Just access the URL directly from the text of the SMS message, and you're on your way.
5.10.1. Configure Abidia Wireless
You can access eBay through Abidia Wireless anonymously, but you'll get a better experience if you enter your eBay username and password. Click the trackwheel to bring up the menu and select Settings. Enter your eBay username and password, as shown in Figure 5-34.
If you are using the WAP version of Abidia Wireless (as opposed to the BES version), you'll need to configure your APN settings specific to your carrier. Abidia provides the settings for most every carrier in the quick start guide, available at http://www.abidia.com/srvc/apps/doc/wire.rim.3.0.0.pdf.
Figure 5-34. Entering your eBay username and password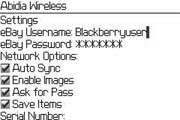 5.10.2. Use the Program
One of the main differences between Abidia Wireless and the WAP interface provided by eBay is the ability to create and save searches. To search eBay, click on the trackwheel in the main Abidia screen (see Figure 5-35) and select New.
Figure 5-35. Creating a new search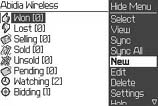 As shown in Figure 5-36, enter your search terms in the Keyword(s) field and optionally choose among the three choices for refining your search, which should be self-explanatory if you've ever bought anything on eBay before.
Figure 5-36. The Search settings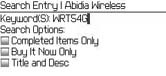 Use the trackwheel to access the menu and select Done to save your search. You'll now see an additional item on the main Abidia screen that corresponds to the search you just entered. To actually execute the search, highlight the search from the main screen and use the trackwheel to access the menu and choose Sync. A progress screen appears, showing the status of the data connection as it is being made. When the search is complete, you'll return to the main screen and your search will show the number of items that matched your search terms. Use the trackwheel to choose Select from the menu to view all the search results. You can view an item (see Figure 5-37) and make bids on an item by selecting it and using the trackwheel menu.
Figure 5-37. Viewing an item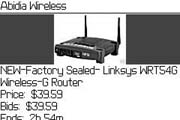 5.10.3. Interpret the Search Results
Different items on eBay are displayed in different ways in the search results in Abidia. Regular items will appear with the current bid price at the beginning of the line. Items in your search results beginning with C are completed auctions. Items that begin with the string "bin" are Buy It Now only items, meaning there is no auction for the item, just a set price that the seller is offering it for. Items with two prices right at the beginning are items that are up for auction and have a Buy It Now price. Figure 5-38 shows my watch list with each of the types of items in it.
Figure 5-38. Different item types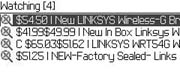 5.10.4. Sync with My eBay
Probably the best feature of Abidia Wireless is its ability to stay in sync with the My eBay (http://my.ebay.com) portal that you usually would access from a computer. From the main Abidia screen, choose the Sync All option from the trackwheel menu to synchronize between all the sections of My eBay. This gives you access to items you're bidding for, items you're selling and have sold (or unsold), items in your watch list, and items you've won and lost.
This program is excellent for using eBay on the go. When eBay sends you an email saying you've been outbid on an item, you can go right into the Bidding section of Abidia and bid again from your device. You can also add an item to your watch list from your device, and then easily view the item in more detail when you return to a desktop computer.