Peachpit Press
1249 Eighth Street
Berkeley, CA 94710
510/524-2178
800/283-9444
510/524-2221 (fax)

Find us on the World Wide Web at: www.peachpit.com
To report errors, please send a note to errata@peachpit.com
Peachpit Press is a division of Pearson Education
Copyright © 2005 by Elizabeth Castro
Credits
Cover design: The Visual Group with Aren Howell

Cover photo credit: Photodisc

Interior design: Elizabeth Castro
Notice of Rights
All rights reserved. No part of this book may be reproduced or transmitted in any form by any means, electronic, mechanical, photocopying, recording, or otherwise, without the prior written permission of the publisher. For information on getting permission for reprints and excerpts, contact permissions@peachpit.com.
Notice of Liability
The information in this book is distributed on an "As Is" basis, without warranty. While every precaution has been taken in the preparation of the book, neither the author nor Peachpit Press shall have any liability to any person or entity with respect to any loss or damage caused or alleged to be caused directly or indirectly by the instructions contained in this book or by the computer software and hardware products described in it.
Trademarks
Visual QuickProject Guide is a registered trademark of Peachpit Press, a division of Pearson Education.
All other trademarks are the property of their respective owners.
Throughout this book, trademarks are used. Rather than put a trademark symbol with every occurrence of a trademarked name, we state that we are using the names in an editorial fashion only and to the benefit of the trademark owner with no intention of infringement of the trademark. No such use, or the use of any trade name, is intended to convey endorsement or other affiliation with this book.
9 8 7 6 5 4 3 2 1
Printed and bound in the United States of America
Dedication
For the Cookwood kids: Louise, Albert, and Katherine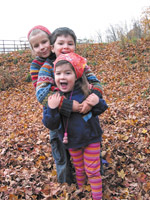 Special thanks to...
Graham Waldon and Biz Stone at Google for their invaluable help with Blogger details, patient answers to my nit-picky questions, and insightful recommendations for improving the book;
Evan Williams, for beginning Blogger and for pointing me to Graham and Biz;
my dear old friend Nancy Bea Miller, who reminded me about blogging just at the perfect moment, inspired me with her wonderful blog (www.genrecookshop.com), and who encouraged me by reading and responding to so many of my blog posts;
Lisa Brazieal and Connie Jeung-Mills at Peachpit Press, who helped shepherd this book through production;
Nancy Davis, my wonderful editor at Peachpit Press, to whom I owe so much;
and to Andreu, who continues to make it possible for me to write books.