110. Archive Your Project
BEFORE YOU BEGIN
1 Start a New Project
4 About Video Capture
14 Add Media with the Adobe Media Downloader
SEE ALSO
105 Output to DV Hardware or Export to Tape
The Project Archiver lets you save your project under a separate name and even on a separate hard drive. Archiving a project (making backups) is always a good idea to ensure their safe keeping.
110. Archive Your Project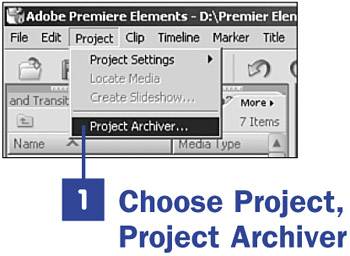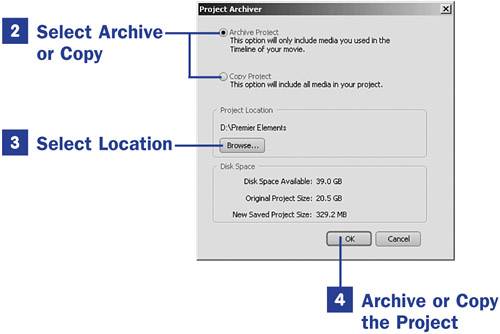 The Project Archiver gives you two methods of archiving: Archive and Copy. The Archive option saves your project using only the media used on the Timeline, taking out all of the edits and anything not used that is still in the Media panel. The Copy option copies the entire project and all of the media, resulting in a file as large as the current project. The Copy option does not save disk space as the Archive option does.
1.

Choose Project, Project Archiver

From the taskbar menu at the top of your screen, choose Project, Project Archiver to open the Project Archiver dialog box.



2.

Select Archive or Copy

Select the Archive Project or Copy Project option, whichever you prefer.



3.

Select Location

The default location is the same as your project. Alternatively, you can browse to a new location. You can even choose to store the archive or copy onto an external hard drive as a backup. Just make sure that whatever location you archive to has enough space for all the files.



4.

Archive or Copy Your Project

After making your selections, click the OK button. A dialog box appears, showing you the progress of the archive or copy. When it is finished, you can open the copied or archived project at any time by browsing to the directory location you specified in step 3.