Unlike Photoshop CS, Photoshop 7 does not offer pixel aspect ratio correction, which makes designing a two-part process.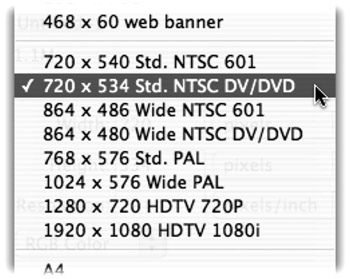 To start designing a DVD menu in Photoshop 7:
Go to Photoshop> Color Settings and turn color management off.

Go to File>New.

Click on the presets button, and choose 720x534 Std. NTSC DV/DVD.

Make sure your mode is RGB Color.

Click OK.
Make your own title safe guides:
Go to View>Rulers.

Select>All or press Cmd+A (Ctrl+A).

Select>Transform Selection.

In the option bar for the selection, link the width and height together and scale the selection to 90 percent.

Drag four guides to each edge of the selection for action safe.

Without hitting return, change the value of the scale of the selection to 80 percent.

Drag out four more guides to each edge of the selection for title safe.

Press ESC to drop the transformation and go to Select>Deselect to clear the selection.
Design your menu.