Fine. Don't Use My Camera!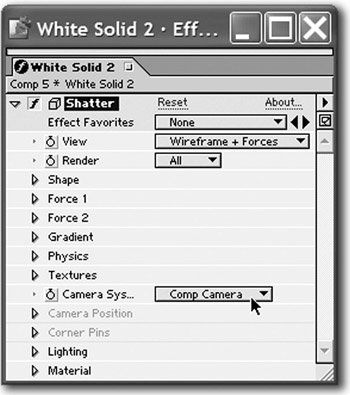 Many Effects, like Shatter, have their own built-in 3D systems, complete with cameras and lights, but if you're comfortable using AE's lights and camera (or if you want those effects to blend into an AE 3D scene), you can use them instead of the ones built into the effects. Just check the "Use Comp Camera" or "Use Comp Lights" option in the Effect's property list. Don't enable the 3D switch for the layer with the effect applied to it (i.e., the Shatter layer).
Effects that can use AE's cameras and lights include Shatter, Wave World, Card Dance and Zaxwerks 3D Invigorator.