Case studies illustrate how standardized functionality applies to different types of environments, especially the flexibility to model variations in business processes. They also illustrate customizations that go beyond standardized functionality in solving business problems.
[2] Customizations have been developed by Microsoft Navision partners for handling specialized requirements in numerous industries, ranging from manufacturers involved in animal production to distributors involved in food banks. A comprehensive listing of industry-specific customizations falls outside the scope of this book.
The book s case studies reflect one distribution company, four manufacturing companies, and one catchall company. The catchall category allows coverage of case studies applicable to all five environments, and of case studies that represent different environments. These categories are shown in Figure 1.2 and the case study companies are briefly explained below.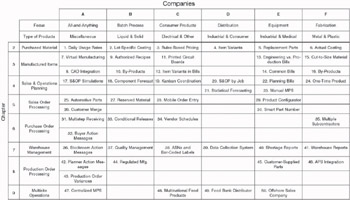 Figure 1.2:

Summary of Case Studies
Case A: All-and-Anything The All-and-Anything company consists of several businesses that have been acquired . Each business operates autonomously and produces a unique set of products.
Case B: Batch Process The Batch Process company manufactures two major product lines involving liquids and solids. It purchases materials and builds product to stock.
Case C: Consumer Products The Consumer Products company manufactures electrical products and other products for the consumer marketplace . It purchases materials and builds product to stock.
Case D: Distribution The Distribution company represents a wholesaler carrying two major product lines "one for consumer products and another for industrial products "that are purchased and then sold from stock.
Case E: Equipment The Equipment company manufactures industrial and medical products. Some standardized products are built to stock; other products are configured and built to order from stocked subassemblies.
Case F: Fabricated Products The Fabricated Products company builds custom products to customer specification using metal and plastic raw materials.
Each chapter within the book includes case studies from these companies. Case studies that apply to all firms are grouped under Case A. Figure 1.2 summarizes the case studies by chapter and company.