Managing sustainability issues is difficult enough at the best of times, explains Sarah Roberts from the National Centre for Business and Sustainability, so spending time trying to get other companies operating in distant countries to improve their sustainability performance is not usually top of managers agendas . However, the need to find effective mechanisms to do just that is increasingly rising to the top of staff priority lists in departments as diverse as public affairs and procurement, due to the potential reputational risks to brand owners of poor environmental or social performance in their supply chains. [5 ]
So where does the organizational responsibility for managing these various tasks lie? Leading practices seem to demonstrate that to develop this type of ethical supply chain program, a company needs resources that come from four key areas.
Executive and Board Sponsorship
One thing we have learned from enterprise-wide change projects in the past is that successful deployment depends on strong, visible, and active leadership. Not only is visible and consistent senior leadership important in convincing employees and suppliers of the value of ethical behavior, but only senior leadership has the span of organizational control to cover the many areas " supplier engagement, materials sourcing, manufacturing, logistics, product distribution, and sales " that are involved in the company s extended supply chain. This in itself is an important departure for most companies, where the senior executive team and the board seldom consider either the company s strategic ethical framework or specific supply chain related codes of conduct or supplier issues.
Top management involvement in the process of establishing and implementing a responsibility vision, agrees Sandra Waddock from the Carroll School of Management at Boston College, in her collaborative 2002 study with the ILO of over 120 managers in the apparel and footwear sectors, is absolutely critical. Employees typically seek guidance from management, attempting to understand what senior management wants and what management will reward. As many managers interviewed emphasized , if management does not believe in the vision being articulated or sees it as merely a public relations exercise, then there is little hope for its becoming part of operating practices.
On the other hand, explains Waddock, if top management is involved in the development of a vision and communicates that commitment on a regular basis, if vision is supported through reward systems, allocations of resources and changes in procedures, then the vision will move forward.
Most large or international corporations, of course, may have many layers of senior management, reflecting geographical and organizational levels within the overall company pyramid. The interviews, stresses Waddock, indicate that management commitment at each of these levels is crucial; a senior manager in charge of country level operations, in charge of quality control, in charge of purchasing, who does not believe in the principles outlined can lead to a breakdown of support for corporate responsibility objectives within his or her area of responsibility. Support needs to be generated at all levels in a cascade fashion from the top of the organization all the way down and through supply chain operations to supervisors and workers on the production lines. [6 ]
A Corporate Ethics Office Lead By a Chief Ethics and Risk Officer (CERO)
The entire process ultimately needs someone to coordinate and lead the SEAAR effort. For many companies, that role does not really exist at this time, but for many progressive organizations it essentially expands on the role of the Chief Risk and Ethics Officer. This position, focused specifically on leading the types of activities that we have been describing, is certain to expand into an ever-more prominent senior role in companies, becoming as strategically important as the CFO or the COO positions are today. The position carries various titles " Chief Ethics Officer, Chief Corporate Social Responsibility Officer, or Chief Risk Officer " depending on the emphasis of the program, but they all have in common an important set of responsibilities:
Implementing ethics and risk management policy throughout the organization

Selecting and implementing process and performance standards

Communicating ethics and risk policy among employees and stakeholders

Overseeing the supplier management program

Developing education and training programs

Providing guidance and advice on ethical and risk issues

Confirmation and monitoring of compliance, adherence/oversight

Directing the risk scanning exercise

Tracking to resolution identified risks

Overseeing the development of the company s social and environmental reporting
In order to be able to oversee these significant duties , the Chief Ethics and Risk Officer or CSR Manager needs to be invested with significant authority, and will need to have the political presence and personality to act as a liaison between employees, suppliers, the CEO, and the board. Most importantly, the CERO will usually also be responsible for setting up, or at least advising on, and supervising implementation of the important aspects of an ethical supply chain program, including, signing up for aspirational codes of conduct, selecting and implementing social and environmental standards, negotiating with and monitoring the performance of suppliers, and creating the company s social and environmental sustainability report. Playing a lead role in supplier selection, the CERO will need to understand fair labor practices, and will need to be able to perform and oversee credible social audits in factories that may have a strong incentive to doctor the results. They will also need to understand best practices in environmental packaging, in materials labeling, and other environmentally sound logistics practices.
An Ethics Committee
Many progressive companies have formed a corporate ethics committee that includes senior leadership, the CERO, representation from the Board, legal counsel, human resources, and the different functional areas within the company, including manufacturing operations, procurement, and corporate relations. This committee not only helps to create and implement corporate ethical policies, but reviews potential incidents and makes recommendations to the CEO and the board on ethics-related policy. Under the guidance of the CERO, this committee has responsibility for reviewing not only the ethical issues that arise with major suppliers, but any significant project or incident that involves health, safety, employment, or the environment within the entire supply chain process.
The program should be supported by an ethical supply chain team dedicated to overseeing suppliers and other business partners in the supply chain. This team will be responsible for ensuring that the company s supply chain operations on a day-to-day basis identifies and deals appropriately with risks that might harm the company s reputation. Their duties include responsibility for providing advice on environmental and purchasing issues and on workplace environmental, health, and safety policies in both domestic and overseas operations. They will also be responsible for selecting, monitoring, and reporting on the social and environmental performance of suppliers, for the supplier management program, and for creating and administering the social and environmental report for the company.
This is a cross-functional team, made up of a combination of organizational leaders and experts from areas such as procurement, legal, supply chain operations, and occasionally third-party specialists. These specialists may work with suppliers around the world, establishing close working relationships with NGOs, government agencies, suppliers, and unions.
Of course there will also be support required from specialist groups. These include legal, strategic planning, EHS, human resources, and corporate affairs, as well as design engineers and operational and product specialists. Each of these groups, including the executive leadership, needs to be involved both in making policy and in making decisions once a potential incident has arisen.
H&M, the European clothing retailers, provide a good example of the CSR reporting structure in a modern global company. The company has 30 employees designated as Code of Conduct Inspectors, who carry out supplier monitoring and inspections. In addition, the company has 110 quality controllers working in their 21 production offices, each tasked with reporting any infringements that they encounter of the Code of Conduct. Inspection results are reported both at the local office and corporate office, with all results registered in the code of conduct database. The CSR department is led by a dedicated corporate manager who reports directly to the company s CEO (see Figure 6-1).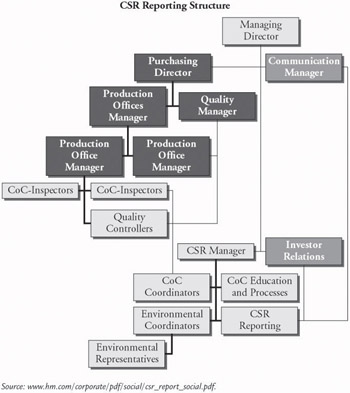 Figure 6-1:

H&M s CSR Reporting Structure
Source: www.hm.com/corporate/pdf/social/csr_report_social.pdf.
This is the type of dedicated resource and organizational structure that a good ethical supply chain program demands.
So what does this dedicated resource have to do, and how do they do it? There are a series of key activities and processes, explored in the next chapters, that leading companies are beginning to develop that are key to a strong ethical supply chain program.