What's in Office 2003?
| | |
| --- | --- |
| | Office contains Microsoft's most popular applications, such as Word and Excel, in a single package. Microsoft designed the programs to work well together, and although you might not need every product in Office, you can easily share information between the products that you do want to use. Microsoft offers multiple versions of Office, such as the Office Professional Edition and the Office Enterprise Edition. Program collections such as Office are often called a suite of programs . You can still purchase many of the Office programs individually, building a suite of products, but the Office package offers the best deal. If you believe you'll need to use two or more of Office's products in the future, even though you might only use one now, consider getting one of the complete Office suites now to save money. You'll also have all the products handy so you can use them more quickly when you're ready. |
The following is a quick overview of the primary Office programs in Office 2003:
Word 2003 is a word processor with which you can create notes, memos, letters , school papers, business documents, books, newsletters, and even Web pages.

Excel 2003 is an electronic worksheet program with which you can create graphs and worksheets for financial and other numeric data. After you enter your financial data, you can analyze it for forecasts, generate numerous what-if scenarios, and publish worksheets on the Web.

PowerPoint 2003 is a presentation graphics program with which you can create presentations for seminars , schools , churches , Web pages, and business meetings. Not only can PowerPoint create the presentation overheads, but it can also create the speaker's presentation notes.

Access 2003 is a database program with which you can organize data collections. No matter what kind or how much data you must organize, Access can analyze, sort , summarize, and report on that data. Your Web pages can reflect your latest data when you incorporate an Access database into your site.

FrontPage 2003 is a Web page design and creation program with which you can create Web pages. FrontPage has matured through several generations into one of the most popular Web-designing programs used today. With FrontPage, not only can you design and create Web pages, but you can design, create, and manage entire Web sites and add attention-getting content. Although you can generate Web pages with many of the other Office products, Microsoft designed FrontPage from the ground up to be the best answer for your Web-page creation and editing needs.

Publisher 2003 is a desktop publishing program that enables you to produce eye-catching documents for all occasions in all kinds of shapes and sizes. With Publisher, you can create newsletters, brochures , catalogs, business cards, and more. Your desktop computer turns into a publishing house!

Outlook 2003 is a personal information manager ( PIM ) , sometimes called a contact manager , that organizes your contact addresses, phone numbers , and other information in an address-book format. Use Outlook to track your appointments, schedule meetings, generate to-do lists, keep notes, manage all your Internet email, and keep a journal of your activities.
| | |
| --- | --- |
| | Depending on the version of Office 2003 you buy, you might or might not get every product listed here. For example, FrontPage 2003 does not come with all versions of Office 2003. When you shop for Office 2003, look through the contents of each suite version to make sure that you get all the tools you need now and will need in the future. For example, if you are fairly sure you'll be creating and editing Web pages, make sure you get an Office suite that contains FrontPage. If you doubt you will need FrontPage, get a suite without it. Fortunately, you can buy FrontPage by itself if you decide you need it later. |
All the Office products share common features and common menu choices. Figure 1.1 shows the Word screen, for example, and Figure 1.2 shows the Excel screen. Both screens display the open File menu. As you can see, the two program interfaces look virtually identical even though the programs accomplish entirely different tasks . Once you familiarize yourself with one Office product menu, another Office program's menu is simple to master. The data in each program differs in format due to the nature of the programs, but the interfaces are uniform.
Figure 1.1. The Word interface behaves like that of Excel.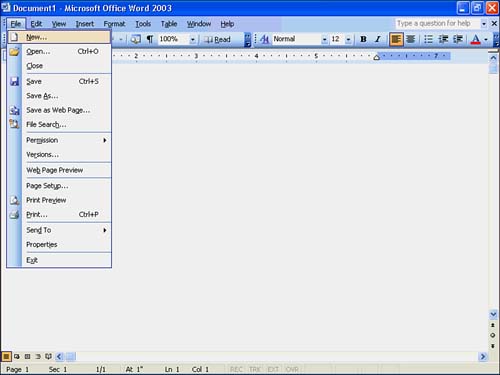 Figure 1.2. The Excel interface behaves similar to that of Word.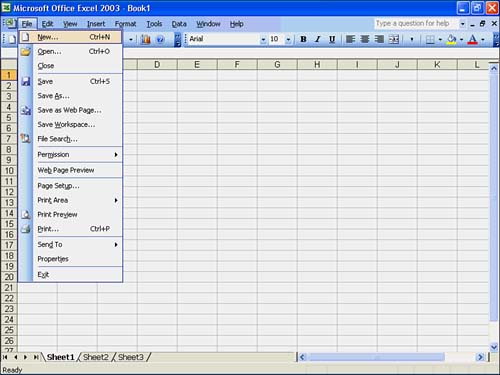 In addition to working with familiar interfaces in the Office 2003 products, you can insert data that you create in one program into another program within the Office suite. If you create a financial table with Excel, for instance, you can put the table in a Word document that you send to your board of directors and embed the table in a PowerPoint presentation to stockholders . After you learn one program in the Office suite, you will be comfortable using all the others because of the common interface.
Office Is Fully Integrated
One of the most helpful features of Office is its personalized menu capability that adjusts menus and toolbars to work the way you do. For example, you can request that Word not display all menu commands on the File menu but those commands you use most often. You can also keep all menus static so that they retain the same options every time you use them.
If you choose the self-adjusting personalized menu feature, the less often you use a menu option, the more likely Word will remove that option from the menu. Office analyzes the menu options and buttons you use most; those options and buttons you use infrequently begin to go away so that only your common choices remain . You can always access these hidden menu options, but Office puts them out of the way until you need them. The Office products, thus, attempt to keep your screen as free from clutter as possible and yet make available every feature you require.
| | |
| --- | --- |
| | This book always displays all menu options although your Office installation might show the personalized menus that reflect the options you use most. You can show the full set of menu commands by selecting Tools, Customize, Options and checking the option labeled Always Show Full Menus. |
The Office products are general purpose, meaning that you can customize applications to suit your needs. You can use Excel as your household budgeting program, for example, and also as your company's interactive balance-sheet system.
You can integrate Office into your networked system. This way, Office provides useful features whether you are networked to an intranet, to the Internet, or to both. You can share Office information with others across the network. Office fits well within the online world by integrating Internet access throughout the Office suite of products.
Introducing Word
When you need to write any text-based document, look no further than Word. Word is a word processor that supports many features, including the following:
Automatic corrections for common mistakes as you type (see Hour 2, "Welcome to Word 2003") using special automatic-correcting tools that watch the way you work and adapt to your needs

Wizards and templates that create and format documents for you (see Hour 3, "Formatting with Word 2003")

Advanced page layout and formatting capabilities (see Hour 3)

Numbering, bulleting, and shading tools (see Hour 3)

Multiple document views so that you can see a rough draft of your document or the look of the final printed page as you write (see Hour 3)

Integrated grammar, spelling, and hyphenation tools (see Hour 4, "Managing Documents and Customizing Word 2003")

Newsletter-style multiple columns , headers, footers, and endnotes in your publications (see Hour 5, "Advanced Word 2003")

Drawing, border, and shading tools that enable you to emphasize headers, draw lines and shapes around your text, and work with imported art files (see Appendix A, "Sharing Information Between Office 2003 Programs")

Simple Web-page development so that you can turn your documents into Web pages (see Hour 22, "Creating Web Content with Word, Excel, and PowerPoint")
Figure 1.3 shows a Word editing session. The user is editing a business letter to send to a client. Notice that the letter is well formatted thanks to Word's advanced page layout capabilities.
Figure 1.3. Word helps you create, edit, and format letters.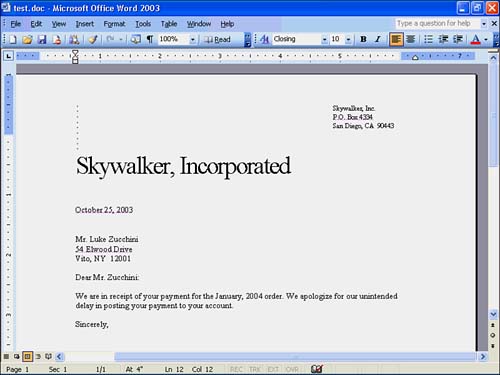 Introducing Excel
Although you can use Excel to organize and sort non-numeric information, the primary goal for Excel is to help you organize and manage financial information such as income statements, balance sheets, and forecasts. Excel is an electronic worksheet program that supports many features, including the following:
Automatic cell formatting (see Hour 6, "Understanding Excel 2003 Workbooks")

Automatic worksheet computations that enable you to generate worksheets which automatically recalculate when you make a change to a portion of the worksheet (see Hour 6)

Built-in functions, such as financial formulas, that automate common tasks (see Hour 7, "Restructuring and Editing Excel 2003 Worksheets")

Automatic row and column completion of value ranges with AutoFill (see Hour 8, "Using Excel 2003")

Formatting tools that let you turn worksheets into professionally produced reports (see Hour 9, "Formatting Worksheets to Look Great")

Powerful charts and graphs that can analyze your numbers and turn them into simple trends (see Hour 10, "Charting with Excel 2003")
Figure 1.4 shows an Excel editing session. The user is getting ready to enter invoice information for a sale. As you can see, Excel can start with a predesigned form. If you have worked with other worksheet programs, you might be surprised at how fancy Excel can get. The wizards make creating advanced worksheets easy.
Figure 1.4. Excel helps you create, edit, and format numeric worksheets.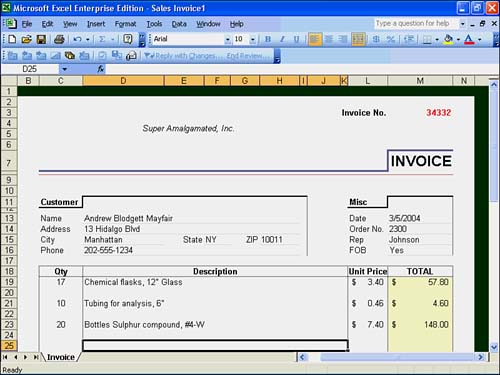 Introducing PowerPoint
Have you ever presented a talk and longed for a better approach to messy overhead slides? Have you seen the pros wow their audiences with eye-catching, professional computerized presentations? With PowerPoint, there is simply no reason why you shouldn't be wowing your audiences as well. Professional presentations are now within your reach. PowerPoint is the recognized presentation leader, and if you've seen great presentations, the chances are overwhelming that PowerPoint was the engine driving them.
PowerPoint supports many features, including the following:
The capability to turn Word document outlines into presentation notes (see Appendix A)

Using the AutoContent Wizard to generate presentations automatically (see Hour 11, "PowerPoint 2003 Presentations")

Sample design templates that provide you with a fill-in-the-blank presentation (see Hour 11)

A screen display that imitates how a slide projector displays slides (see Hour 12, "Editing and Arranging Your Presentations")

Complete color and font control of your presentation slides (see Hour 13, "PowerPoint 2003 Advanced Features")

A collection of clip-art files, icons, sounds, and animations that you can embed to make presentations come alive (see Hour 13)

Numerous transitions and fades between presentation slides to keep your audience's attention (see Hour 14, "Animating Your Presentations")

The capability to save presentations as Web pages that you can then present on the Internet (see Hour 22)
Figure 1.5 shows a PowerPoint editing session. The user is getting ready for a presentation and has only a few minutes to prepare six color slides for the meeting. With PowerPoint, a few minutes is more than enough time!
Figure 1.5. PowerPoint helps you create, edit, and format professional presentations.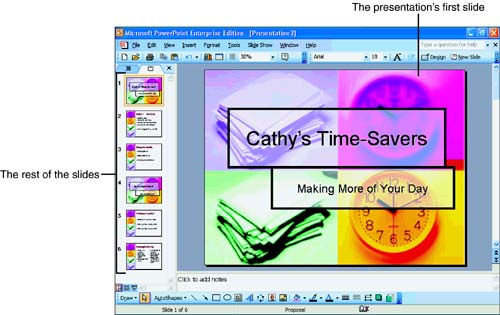 Introducing Outlook
Outlook is simple to use and manages your business and personal meetings, email, to-do lists, contacts, and appointments. Microsoft completely redesigned Outlook for Office 2003 to make the contact manager more closely mirror the way you organize your emails, schedules, and contacts. Outlook provides many features, including the following:
The capability to track your contact information, including multiple phone numbers and computerized email addresses (see Hour 15, "Communicating with Outlook 2003")

Management of your email, phone calls, and to-do lists (see Hour 15)

A journal that tracks your computer activities in a journal (see Hour 16, "Planning and Scheduling with Outlook 2003")

A communication feature that helps you schedule appointments with other Outlook users (see Hour 16)

The capability to plan which people and resources you need for meetings (see Hour 16)

An alarm you can set to sound before an important event (see Hour 16)
Figure 1.6 shows an Outlook calendar screen. The user is getting ready to schedule a meeting on a particular day. As with all the Office programs, you can modify screen elements in Outlook so that they appear in the format most helpful to your needs.
Figure 1.6. Outlook tracks appointments and events.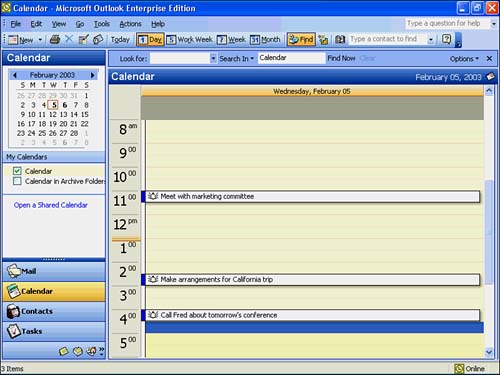 Introducing Access
If you want to organize large collections of data, such as customer and inventory records, Access makes your job simple. Access is known as a relational database system , and it is one of the most powerful available today. Access goes far beyond other databases in power and ease of use by supporting features that include the following:
Simple table-creation wizards and data-entry tools that enable you to set up and enter database information easily (see Hour 17, "Access 2003 Basics")

Complete relational database support to reduce data redundancies (see Hour 17)

Form-designing tools to ease data entry chores (see Hour 18, "Entering and Displaying Access 2003 Data")

Information-retrieval query tools that enable you to quickly get to the data you need (see Hour 19, "Retrieving Your Data")

The capability to filter data rows and columns so that you see only data you want to see (see Hour 19)

Report-generation that enables you to track and publish your data (see Hour 20, "Reporting with Access 2003")

Sorting of data by any value (see Hour 20)

The capability to produce custom labels for any printer (see Hour 20)

Automatic summary provisions such as totals, averages, and statistical variances (see Hour 20)

The capability to save databases in Web pages so that Internet users can view your database's information (see Appendix A)
Figure 1.7 shows an Access session. The user is editing product details. Notice that Access accepts and tracks all kinds of data, including numbers and text.
Figure 1.7. Access manages your database data.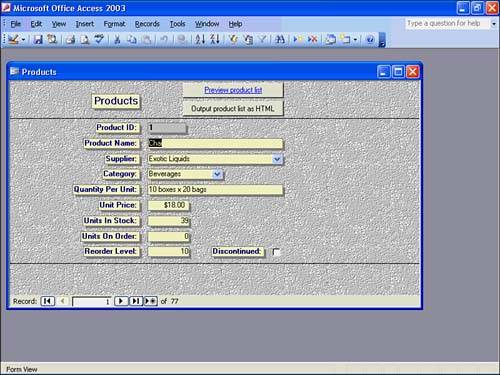 Introducing Publisher
For some Office users, one of the most useful programs in the suite is Publisher 2003. With Publisher, you can create attention-getting publications. You can easily import text and data from other Office programs into your Publisher publications. You can create stunning publications by modifying any of the numerous sample publications that Publisher provides. Publisher brings to you features that include the following:
Create almost any type of publication from scratch or from one of the many samples, such as advertisements, banners, business cards, calendars, catalogs, envelopes, newsletters, resumes, signs, and even fancy Web pages. (See Hour 23, "Publishing with Flair Using Publisher 2003.")

Maintain a consistent look in your publications (see Hour 23).

Easily manage multipage publications such as catalogs and newsletters and wrap text from one page to any other page inside your publication (see Hour 23).

Change the color scheme for your publication on the fly so that the borders, text, headlines, and other elements take on a correct color-blend (see Hour 23).

Learn how to place, crop, size, and adjust any art you place in your publications from just about any source. (See Hour 24, "Adding Art to Your Publications.")

Easily adjust your publication's pictures, borders, and text so your publication takes on the look you want (see Hour 24).
Figure 1.8 shows a Publisher session. FrontPage helped the user place the graphics and text in such a way that visitors to the Web pages will see a professional-looking site.
Figure 1.8. With Publisher, you can easily create attention- grabbing publications.