If you have a microphone, speakers , and a sound card on your PowerPoint machine, you can add narration to your presentation. Doing so enables you to completely automate all the details of the presentation and not just the slides themselves . Voice animations are great for training sessions, employee orientations, and product demonstrations . They are also helpful for presentations that you distribute via the Web or a company intranet. You can record your voice as you narrate through the slide show, or you can use a sound file you've saved to your disk.
When you select Slide Show, Record Narration, the Record Narration dialog box appears (shown in Figure 14.4). Before you add narration for the first time, click the Set Microphone Level button to let PowerPoint adjust its recording volume as you speak into the microphone. You can also select a higher or lower quality of sound by clicking the Change Quality button. The higher the quality, the more disk space your presentation will require.
Figure 14.4. The Record Narration dialog box enables you to add your voice to presentations.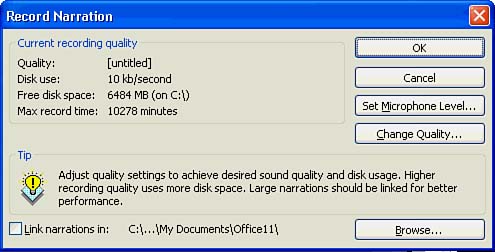 After setting up the sound levels and quality, click OK so that PowerPoint will begin the slide show. Even if you've already applied timing to the slides, PowerPoint waits for you to click your mouse button before moving to the next slide. Therefore, when the first slide appears, record the narration that you want your audience to hear on that slide. Then click the mouse when you are ready to see the next slide and record narration for it as well. If you've set up transition effects, PowerPoint retains those effects as the slide show continues. At the end of the narration recording, PowerPoint gives you a chance either to save the presentation with the narration or not save it so that you can have a go at it once again.