Changing a Single Slide's Design
In the previous section, you saw that you could change an entire presentation's design by selecting a new design template without having to edit all the individual slides. Also, by simply selecting Apply to Selected Slide from the Slide Design task pane's drop-down menu, you can change only the current slide.
In either the Normal view or the Slide Sorter view, you can change the design of an individual slide by selecting the Apply to Selected Slides option from the template's drop-down list box of options.
You might be happy with the template but want to change the color set for a slide (or even the entire presentation). When you click on the Color Schemes at the top of the Slide Design task pane, PowerPoint presents you with a list of color schemes for your chosen template, as shown in Figure 13.2. Again, you can apply a color scheme to an individual slide to make that slide stand apart from the crowd , or you can apply the color scheme to the entire presentation by choosing the appropriate option on the drop-down menu.
Figure 13.2. Select a color scheme that you want for your presentation.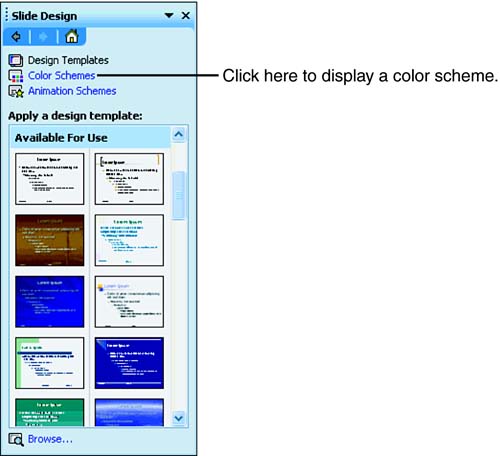 The preceding section explained how to change the layout of your overall presentation. If you change an individual slide's color or template-based style and then apply a different template or color scheme to the entire presentation, the overall template design takes precedence and changes any individual slide that you might have customized. Therefore, attempt to complete your presentation's overall design and color scheme before you modify individual slides.