Your computer comes with a handy tool that can check for and repair a hard drive problem. The program is called Disk Utility and you'll find a copy in your Utilities folder.
You can run the First Aid component of Disk Utility at any time, simply double-click the program's icon, and then click the First Aid tab. Finally, select the drive or drives you want to repair (see Figure 29.7).
Figure 29.7. The First Aid component of Mac OS X's Disk Utility can check your drive for basic directory problems and fix them.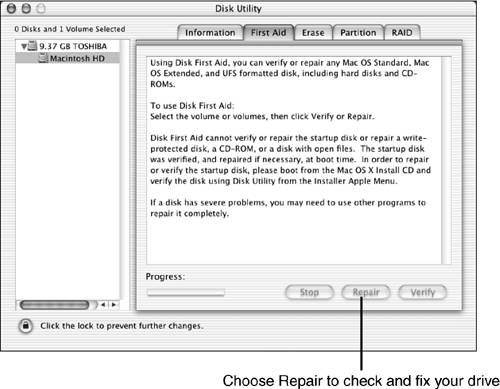 The nice thing about Disk Utility is that it's free, but it's not a 100% solution. Several popular commercial programs offer to go beyond Disk First Aid in checking your drive and repairing catalog damage.
| | |
| --- | --- |
| | Unfortunately, you cannot repair directory problems on a startup drive. Fortunately, as an added ounce of protection, your computer and all drives connected to it are checked during the Mac OS X startup process. But if you keep your Mac running for long periods of time without a shut down or restart, running First Aid from time to time to see if there's a problem is a good ounce of protection. |
Here's a brief description of the better-known hard drive diagnostic programs and what they do:
DiskWarrior " This single-purpose program is from Alsoft (http://www.alsoft.com), a publisher of several Mac utility products. Its stock in trade is the capability to rebuild, rather than repair, a corrupted hard drive directory file. The original catalog is checked to locate the files on your drive, and then that information is used to make a new directory to replace the damaged one.

Norton Utilities " From Symantec, this is the oldest available hard drive maintenance and repair package. The centerpiece is Disk Doctor, which will check your hard drive and fix problems. Additional components of the package can optimize your drive (see the following list) to speed up file retrieval and to recover your drive in the event a crash makes it inaccessible. The program can also help you recover the files you trash by mistake.

| | |
| --- | --- |
| | Older versions of Norton Utilities cannot work with the file system on your computer, which is known as HFS+ (or Mac OS Extended). At the very least, they might even make catalog damage worse , and the end result is that your computer's drive contents will become unavailable. In addition, you cannot scan disks running Mac OS X unless you use version 6.0 or later of this program. Version 7.0, which shipped when this book was written, is the first Mac OS X native release. |




TechTool Pro " In addition to hard drive repairs , TechTool Pro (http://www.micromat.com) can optimize the drive and even run a wide range of diagnostic checks on all your computer's hardware and attached devices. One great feature is the capability to perform an extended test of your computer's RAM. This might be helpful if you suddenly face lots of crashes after doing a RAM upgrade. To add to its bag of tricks, TechTool Pro can also do virus checks. Unfortunately, you can only check a Mac OS X drive by restarting from your TechTool Pro CD.

Drive 10 " As the name implies, this is a special purpose utility from the publisher of TechTool Pro that's designed to diagnose hard drives running Mac OS X (see Figure 29.8). Although it can run a pretty hefty suite of tests, you need to restart your Mac from the supplied CD to fix problems. Running a scan first is a real time saver; you only have to restart if a problem is reported .

Figure 29.8. Drive 10 is a Mac OS X-only utility for hard drive diagnostics and repairs.
Using Disk Repair Software
The best way to benefit from a repair program is to install it. Either Norton Utilities or TechTool Pro will work best if you install the package as instructed in the program's documentation.
Although the application can be run directly from the CD without installing anything on your computer's drive, the regular installation will provide the following:
A catalog directory record " During the installation process, both Norton Utilities and TechTool Pro create special (invisible) files on your hard drive to track information about the drive's catalog. This information is used so the files can be recovered in case your hard drive crashes. The file is updated whenever you copy or change files on your computer's drive.

Deleted file record " The system extensions from Norton Utilities and TechTool Pro track the files you trash. Although there are no guarantees , this information can be used to help recover a file if you dump it by mistake.

Automatic scanning " Both Norton Utilities and TechTool Pro can automatically scan your drive at regular intervals (and before each restart and shut down) to check for problems. If your computer is forced to restart because of a crash, these programs will run a directory scan of your hard drive automatically after startup. These features, by the way, can be switched off if you don't want them.