If the Mac OS X administrator password is forgotten or misplaced, Apple provides a facility for restoring a password. Boot your computer from the Mac OS X install CD (hold down the C key while turning your computer on with the CD in the CD-ROM drive). When the Installer application starts, choose Reset Password from the Installer application menu. Figure 29.6 shows the interface to the Password Reset facility.
Figure 29.6. Use the boot CD and Password Reset application to ease your forgetful head.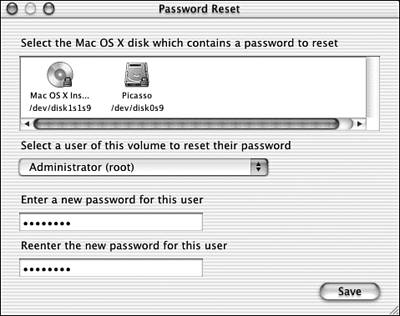 Detected Mac OS X volumes are listed along the top of the window. To reset a password, follow these steps:
Click the main boot drive to load the password database for that volume.

Next, use the pop-up menu to choose the user account that you want to reset.

Fill in the new password in both of the password fields.

Finally, click Save to store the new password.
After rebooting your system, you can immediately log in with the new password.