The online Exchange support community is a large and thriving worldwide support base fed by websites, forums, and web logs. All of these sources of information encompass the vast amount of experience and expertise available on Exchange 2003. The online community is a good place to start when looking for help troubleshooting and resolving issues related to Exchange 2003.
The Experts Exchange Website
Experts Exchange (www.experts-exchange.com) is a website that provides IT technical support on a variety of technologies. Technical problems related to Exchange can be posted on the site in the appropriate Exchange section and Exchange experts post technical solutions based on experience and known solutions. Administrators can search the site using error messages or verbal descriptions and then browse potential solutions. (Look for my technical editor, Paul Clement, and me on the site!)
The Slip Stick Website
Slipstick Systems (www.slipstick.com) is another website directed at administrators and power users. This site contains information on the latest Outlook and Exchange Service Packs, solutions to common problems, and information on security holes. The site is filled with how-to articles, links to useful add-ins, tools, and related Outlook and Exchange hot topics.
The MS Exchange.org Website
MSExchange.org is a well-organized resource site for Microsoft Exchange Server news, downloads, tutorials, how-to articles, and FAQs. The website also includes information regarding third-party Exchange and Outlook products and add-ons.
The Microsoft Exchange Product Home Page
The best place to start for Exchange-related information, tools, downloads, and more is at the Microsoft Exchange Product home page at http://www.microsoft.com/exchange. Administrators will find links to other Microsoft Exchange-related sites, such as the Exchange Server 2003 TechCenter, trial downloads of Exchange 2003, and other items such as Exchange service packs.
The Microsoft Exchange Server 2003 Support Center
The Microsoft Exchange Server 2003 support center, shown in Figure 15.1, can be found on the web at http://support.microsoft.com/exch2003. This site contains official Microsoft how-to articles, downloads, and troubleshooting techniques for Exchange 2003. It also has official links to the most recent knowledgebase articles, related sites such as the Exchange Community Newsgroups, and additional support resources such as On Demand Messaging Webcasts.
Figure 15.1. Viewing information available on the Microsoft Exchange Server 2003 support center.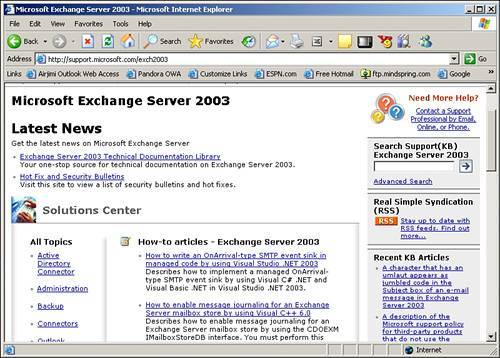 The Exchange Server Developer Center
The Exchange Server Developer Center, located on the Web at http://msdn.microsoft.com/exchange, is the primary site for application development organizations. It is the best source for the latest release of the Exchange 2003 Software Development Kit (SDK) for developers building applications for Exchange 2003. The page also contains downloadable samples of code written in C#, C++, VB .NET, and VBScript.
The Exchange Server TechCenter
The Exchange Server TechCenter is designed to help administrators connect with Exchange Server-related resources from Microsoft and also the broader Exchange Server community. This website can be found at http://www.microsoft.com/technet/exchange/. The site provides access to the top Exchange stories, tasks, and downloads. The site also includes top-notch technical documentation in the form of knowledgebase articles and reference materials related to migrations, planning and deployment, upgrading, and security. The information on this page has been reviewed and validated by the Microsoft Exchange Server team.
The Microsoft Knowledge Base
As shown in Figure 15.2, the Microsoft Knowledge Base online, located at http://support.microsoft.com/search, is a web front-end interface to Microsoft's database of Knowledge Base articles, policies, and how-to articles. As you have seen throughout this book, Knowledge Base articles (also known as KBs) can be quite useful for troubleshooting. Because they are updated frequently, they often contain information about Exchange that may not have been published yet in other Exchange product documentation.
Figure 15.2. Searching the Microsoft Knowledge Base online using Internet Explorer.