Figure 7.4 shows the calendar view of the events list after the recurring event has been added in the previous section. This view can be accessed by opening the events Web Part from the home page and then clicking the Calendar view. Note in this example that the weekly meeting appears on every day and is underlined. Clicking the event name will open the event (referenced asDispForm.aspx in the URL) and show the details of the event.
Figure 7.4. Calendar view in the events list.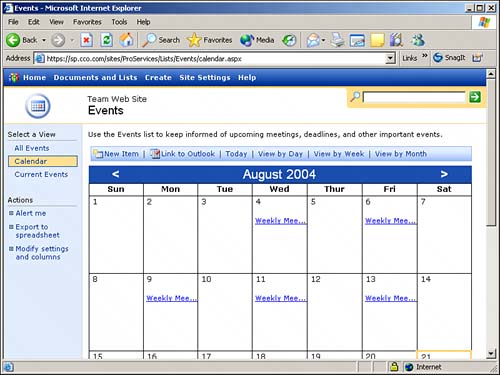 In the toolbar, you are given the options New Item, Link to Outlook, Today, View by Day, View by Week, and View by Month. Figure 7.4 shows the monthly view, and you can see the following or previous month's events by clicking the arrow to the left or right of the month name. The Link to Outlook feature exports the information contained in the events list to Outlook as read-only information that is updated as the events list changes.
TIP
| | |
| --- | --- |
| | Searching will take place on the current view only. So if you are looking for an event that contains your name, for example, only the current view will be searched. If you have the calendar view selected with View by Month chosen, only the month currently shown will be searched. For more effective searching, you are better off in the All Events view. |