The outlined Web Part in Figure 7.5 shows the less-than-ideal view from the home page after the recurring event has been added. Most users agree this is not a very helpful way to see upcoming events, because they are used to seeing a calendar view.
Figure 7.5. Events list showing all events on the home page.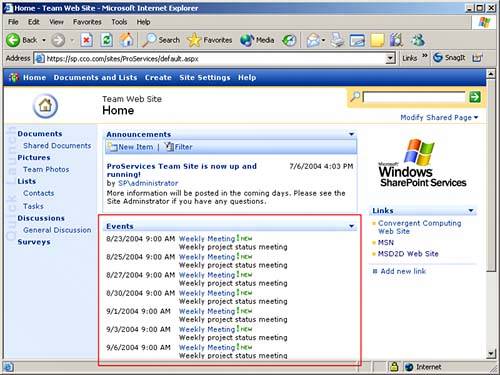 To rectify this problem, you (or a Site Administrator) can follow these steps:
1.

From the site home page, where the events Web Part is visible, click the black down arrow in the Events title bar.



2.

Click Modify Shared Web Part.



3.

In the List Views section under Selected View is a drop-down menu field, which by default will have Current View selected. Click the down arrow and select Calendar.



4.

A warning message will come up informing you that you may disable Web Part connections, so only make the change if you are sure there aren't Web Part connections to this list in place. Click OK.



5.

Click OK again. You'll see a display similar to what's shown in Figure 7.6, which most users agree is easier to read than the display in Figure 7.5.



Figure 7.6. Events list with calendar view on the home page.