In the last chapter I discussed photo junketstrips designed to give the photographer unfettered access to photographic settings while immersed in a total photo experience. It doesn't matter if you're on the African veldt or the canals of Venice, a photographic safari is designed to offer shooting opportunity after shooting opportunity. You'll spend days taking photographs without worrying about planning your travels; most junket itineraries are prearranged. A well-organized junket stops at all the most photographically appealing spots. And you'll be surrounded by a group of like-minded people (or at least those who share your hobby).
Figure 4.11. "On a trip to Tombstone, Arizona run by American Photo magazine," explained Reed Hoffmann, "the organizers hired several models so we could photograph some old-time western characters." (Photo by Reed Hoffmann)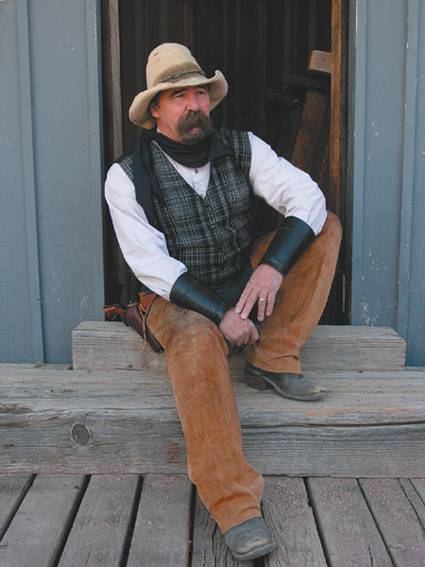 The leaders of these trips will often work with local residents to help scout out both locations and people to photographpeople who are happy and willing to show off their skills, job, or cultural practices for outsiders. It can make taking pictures a lot easier. And if you really are on the plains of Africa, it's much more convenient (and safer) to photograph a rhino from the safety of your Land Rover than while walking alone through the bush.
Though preplanned photographic trips can take some of the spontaneity out of travel, as Bill Durrence discovered (see "The Lucky Trees" on page 89), they can also work to your advantage. Still, an approaching pack of photographic tourists can scare away the locals, make people more closed and reserved, and change the dynamics of an event. It's very hard, for example, to walk up to a lone food vendor on the streets of a European town and ask to take her picture when there are 20 people with cameras standing behind you.
In some cases these trips have a set schedule for each shooting activity, forcing you to linger too long at some subjects you find unappealing, but rush past others that you find fascinating.
On many occasions, however, the special access made possible by these trips more than outweighs their downsides. It's best to find a photographic trip that allows for free time, enabling you to combine the shooting setups provided by the instructors, but also to find your own scenes and shoot at your own pace.
From the hardcore photographic junket to the free-and-easy wandering style of photography, it's essential to be receptive to the random opportunities travel offers. Make plans and schedules if you must, but be willing to drop them at the first sign of an interesting conversation or an intriguing detour. Travel is about personal growth, and a camera can often help you uncover some of the world's secrets. Sometimes, though, you have to interact with the world around you without the benefit of your camera in order to get a truly rounded travel experience.
Most of all, if you're traveling for vacation, don't be a slave to the camera. Remember to have fun, relax, and enjoy your trip. After all, that's a big reason you're on the road in the first place.
Figure 4.12. Don't forget that part of taking a vacation is relaxing. Follow the tips in this book and you'll find plenty of good photos without turning your vacation into work. (Photo by Reed Hoffmann)