Project Server supports both Windows Integrated Authentication and its own internal Project Server Authentication. Although Project Web Access can run without a Windows logon, documents and issues functionality provided by STS requires Windows Authentication. You must install multiple servers within a domain/Active Directory context, so the use of Windows Authentication is largely required for enterprise configurations.
From the Project Web Access Admin menu, select Manage security

User authentication to open the User authentication options page shown in Figure 9-21. Note that you have a choice of three option states: Mixed, Windows Authentication only, and Microsoft Project Server authentication only. The default installation value is set to Mixed.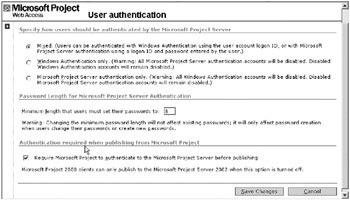 Figure 9-21. User authentication options
In an enterprise environment, your practical choices are either Mixed or Windows Authentication only. Before you select to convert from Mixed to Windows Authentication only, consider the consequences. The built-in administrator account is a Project Server account. Project Server accounts are rendered disabled upon acceptance of the change. It's incumbent upon you to prepare for this by assigning full administration privileges to any number of Windows accounts. I recommend establishing both domain and local logon–based accounts with Project Server admin privileges.
Set your password length to your organizational preference by changing the value in the Minimum length field in the Password Length section. Deselecting the option to require Microsoft Project to authenticate to Project Server is for workgroup configurations only. This should remain unchanged in an enterprise implementation.