A Microsoft TechNet article titled "Migrating Web Sites Based on SharePoint Team Services" describes most of what you need to know to accomplish an intersystem STS restore. You can find this article by expanding the Products and Technologies tree on the TechNet site (http://www.microsoft.com/technet) to SharePoint Team Services and then expanding the Deploy category.
An alternate approach to restoring an STS server for a Project Server is to simply back up all the numbered subwebs and nothing else. Instead of migrating the system, you can re-create it and then restore the contents to the subwebs. In this process, you install a new instance of STS on a server by running the stswiz.exe file. See the section that covers this process in Chapter 5. After re-creating the STS server, you must connect it to the instance of Project Server it will serve.
Use the Project Server Admin interface from Admin

Manage SharePoint Team Services

Connect to Servers to delete the old STS connection and add the new one. Alternately, you can edit the record directly in the MSP_WEB_STS_SERVERS table in the database. Similarly, you must remove all the STS subwebs either by using a SQL script to update the MSP_WEB_PROJECTS table WPROJ_STS_SUBWEB and WSTS_SERVER_ID or by deleting them one by one using the Manage Subwebs interface.
The next step is to re-create the subwebs one by one from Admin

Manage SharePoint Team Services

Manage Subwebs dialog box, as shown in Figure 7-27. Select each project from the drop-down list and click the Create Subweb button. After you create all the subwebs, run Synchronize Users for each site and then copy the contents from the backup folders to the new STS site. Although this process is extremely tedious, it works best to re-create the STS environment for a Project Server.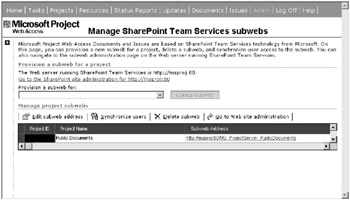 Figure 7-27. Manage SharePoint Team Services subwebs.