As much as almost everyone wants to simply install Project Server and immediately begin using it, this is possible in only the most simple workgroup installations where the Enterprise features are not available. Taking a structured approach to your implementation will increase your chances of a successful installation.
In this chapter you'll explore the assessment phase of implementation and the tools that Microsoft provides to help you through the assessment process. The goal is to gain a better understanding of your organization's project process and discover the unique challenges your organization will face when moving toward project management automation.
The Last Entry on the Administration Page
Unless you jumped ahead to Chapter 5 and have already installed Project Server (and even then), you might not know that the last selection on the Project Web Access Administration home page, shown in Figure 2-1, isn't a software function at all. In fact, it has nothing to do with Project Server administration.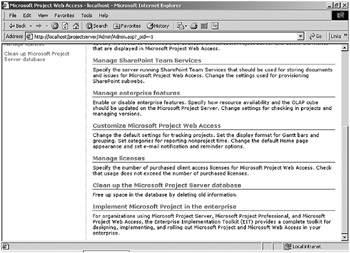 Figure 2-1. The last entry on the Project Web Access Aministration home page doesn't activate a software function.
Instead, selecting "Implement Microsoft Project in the enterprise" takes you to a splash page within Project Web Access that then links to a section of the Microsoft Project Web site that explains the Enterprise Implementation Framework (EIF). The EIF is, physically, a collection of white papers, instructional documents, and deliverable templates that assist you in the early planning phases of your Project Server implementation. This material describes a structured approach that includes the phases outlined in Chapter 1.
When you read the EIF documentation, you might be impressed by the fact that it stresses the use of a Project Partner to provide consulting services through the implementation process. A warning contained in the EIF Setup and Overview document makes this very clear:
WARNING: The EIF is not a substitute for a proper implementation team. It is critical to a successful implementation that the implementation team has the proper level of technical and project management experience.

Implementing Microsoft Project 2002 Professional and Microsoft Project 2002 Server across an enterprise is not a trivial exercise, and having team members with the proper skills and background is perhaps the single most important factor that determines success. In particular, it is essential to have a senior consultant with at least five years' experience implementing or operating an enterprise project management system (preferably Microsoft Project, Artemis Views, PlanView, Primavera P3e, or TeamPlay). If you do not have such expertise available in-house, go to http://www.microsoft.com/office/project/resources/partners.asp and, under By Partner Type:, select Solution Provider and then click GO.
This is music to my ears, but it may not be to yours. Project Partners are Microsoft Certified Solution Providers. You can log onto Microsoft's Web site to learn more about the partner program and locate a partner, or you can find independent expertise to assist you.
As much as this book is intended to guide you through a structured implementation, it can't entirely substitute for an experienced consultant. There are advantages to professional consulting assistance other than keeping people like me in business, and I point these benefits out as I go along rather than launching a lengthy discussion. Besides, there's plenty of that available in the EIF documentation.