Setting up a basic MySpace account is fast and easy. Follow these steps:
1.

On the www.myspace.com home page, click SignUp in the top-right corner (Figure 3.1).



Figure 3.1. To sign up, click the orange button on the right side or click SignUp in the top-right corner.


This takes you directly to the signup page (

Figure 3.2

).



Figure 3.2. The signup page.




2.

Provide your email address, first and last name, date of birth, gender, country, and zip code.

Your email address and last name won't appear in your public profile automatically, but your first name, age, and location will unless you delete them later. (We'll show you how.)



3.

Create a unique password with six or more characters, containing at least one number or punctuation character.



4.

Agree to comply with basic site-security protocols and the terms of the site by checking the appropriate check box.



5.

Enter the characters displayed in the Verification box.

You may have trouble deciphering the verification text, but if you get it wrong, MySpace will display a different one for you to try again.



6.

Click the Sign Up button.


Key Parenting Point
Parents may want to take a look at MySpace's terms of use and safety tips, and go over them with their kids. MySpace is getting more responsive to complaints about violations of these terms, including deleting the accounts of people under the minimum age of 14 and accounts that violate its terms.
Uploading a Photo
The next step is uploading a photo to your MySpace profile. Or you can choose to skip this step until later by selecting the Skip for Now link at the bottom of the page (Figure 3.3). See "Turning MySpace into YourSpace" later in this chapter if you want to upload your photo later.
Figure 3.3. Here, you can upload a photo or click Skip for Now to do it later.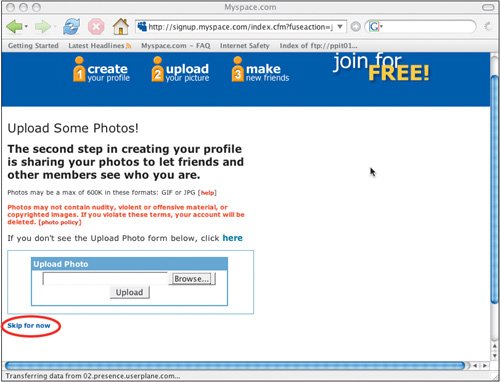 If you have a good digital picture readily available on your computer, you can upload it this way:
1.

Click Browse to navigate to the folder on your computer's hard drive where you store pictures.



2.

Double-click the photo you want to use.



3.

Click Upload.

It may take a minute or so for the photo to be uploaded from your hard drive to MySpace.

Note: See "Turning MySpace into YourSpace" later in this chapter for more about photos, including some safety warnings and instructions on changing your photo or adding a caption.


Key Parenting Point
Be sure that you and your teen read the MySpace safety tips, and remind your child that any picture that gets posted can be seen and copied by anyone who has access to the profile. It can also be saved and passed around the Internet even after your child deletes it. Ask your teen how he or she would feel if the photos were seen by college admissions counselors, future employers, or Aunt Sophie.
Inviting Friends
Before you can view your new basic profile, you'll be asked to share your new page and invite your friends to MySpace (Figure 3.4). You can choose to notify your contacts by following the address-input instructions or skip this step until later.
Figure 3.4. You can invite friends during setup or click Skip for Now to do it later.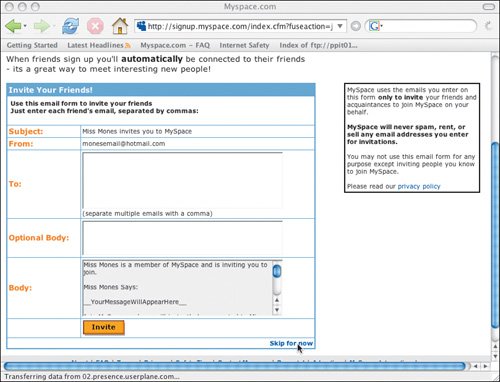 The Hello Page
Congratulationsyour new MySpace account is active! The Hello page essentially is your MySpace home page and central site-navigation tool. Your home page is unique, and it's different from MySpace's main home page at www.myspace.com.
You can access your home page by clicking Home in the menu near the top of any screen in MySpace. To get to the site's main home page, click the MySpace.com link in the top corner of any screen (Figure 3.5).
Figure 3.5. Your very own MySpace home page.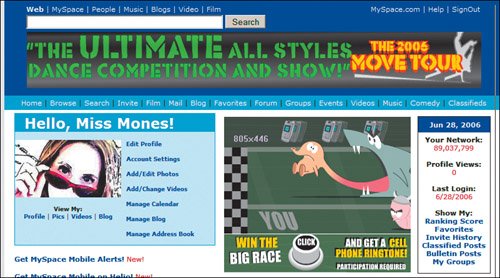 Every time you log in with your user name and password, you'll be autodirected to your home page. Your home page is your jumping-off point for editing or enhancing your profile. Only you have access to this page. Though it looks a lot like what the public sees, it's actually a little different. The URL of the page the public will see is displayed in the box that says "Tell people about your MySpace" (Figure 3.6).
Figure 3.6. Here's where you can choose a URL that isn't a bunch of mind-numbing numbers.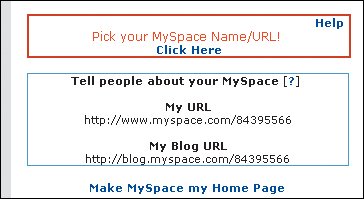 Getting a Friendly MySpace URL
The web address (URL) in the "Tell people about your MySpace" area probably looks something like http://www.myspace.com/84395566. Unless your friends have good heads for numbers, none of them will remember that. Fortunately, just below that listing is a box that says "Pick your MySpace Name/URL!" If you click that box, you can replace those numbers with something people can remember. If your choice has already been used by another member, you'll get an error message and a chance to try a different word.
By the way, in case you were wondering, URL stands for uniform resource locator. Don't ya just love techie terms?
There actually is an upside and a downside to an all-numbers URL. If an address is harder to remember, it's also harder to findwhether the finder is a parent or someone with bad intentions. It's a good talking point for parents and kids.
Your MySpace home page has several features and tools, some of which we will highlight in this section and expand on in greater detail later in this chapter.
Up to this point, you've provided only basic profile information, so your home page looks pretty sparse. The steps in the following sections let you flesh out your profile by providing details.
Key Parenting Point
For privacy and protection, especially if you log into MySpace on public or shared computers, we recommend that you and your kids follow certain practices when logging in and out. When signing in to MySpace (or any password-requiring site), make sure that the "Remember Me" box remains unchecked. When you're finished using MySpace, close out completely by clicking Sign Out in the top-right corner of any screen. We provide more information about passwords in Chapter 5.
MySpace: Subject to Change without Notice
As this book was going to press, the Hello box went through some changes. We think we caught it in time, but it reminded us that MySpace can change at any moment. It's not likely to change radically on any given day, but the company does tweak the interface now and then, which can affect how you use the service. If you come across a discrepancy between our instructions and what you see on the screen, don't blame usin factdon't blame anyone. That's the nature of the Web.
Also keep in mind that if something doesn't work right, it might not be your fault. It could be a bug, as we discovered when reviewing a couple of new features. That's a price we pay for living on the cutting edge. But we have good newswe guess: This book is set in stone, and until the next edition, it won't change.