The power of a recorded message goes a long way. Use this hack to send voice messages via email from your BlackBerry.
There are times when you just can't get your point across in an email message. Perhaps you have an issue that needs to be conveyed with a level of insistence and importance that gets lost when sent by email. Or maybe you still haven't mastered the tiny keyboard on the BlackBerry and you have a lot to say in a short amount of time.
If you encounter any of these situations, you may find it convenient to send a recorded voice message via email. Enter pda2speak, a nifty service that allows you to do just that from any phone number (including your BlackBerry). The pda2speak service uses a web interface that is designed for small screens. You tell it the email address to which to send the voicemail, and it will call you on your BlackBerry to record a message. When you hang up, the message is sent.
6.4.1. Sign Up for pda2speak
Go to http://www.pda2speak.com in your BlackBerry Browser. The first time you use the service, you'll be asked to create an account by entering your name, email address, country, phone number, and a password. Once you're account is created, log in and you'll be taken to the main pda2speak page, as shown in Figure 6-10.
Figure 6-10. The main pda2speak page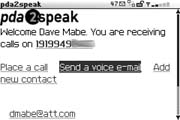 Clicking on Send a voice e-mail will take you to a page that allows you to enter the recipient's email addresses and subject as it should appear when sent (see Figure 6-11).
Figure 6-11. Sending an important voice email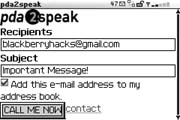 Click the CALL ME NOW button to record your message. After a few seconds, you'll receive a phone call on the phone number that you configured with your account. When you pick up the call, press the number 1 to begin recording your message. After you have completed your message, simply hang up.
6.4.2. What the Recipient Receives
Your voice email will be sent to the recipients you specified in surprisingly short order. The recipients you specified will receive a message with your voice message attached in a compressed .wav format. As shown in Figure 6-12, an additional link is given in the email to a standard .wav file that is stored on the pda2speak server.
You can change the phone number that pda2speak calls you at. This is useful if you want to test the service out using a landline first. Once you are comfortable using the service, you can change the number to the phone number for your BlackBerry. Pda2speak allows you to add up to three numbers for your account that you can toggle between as you send voice emails.
Figure 6-12. The voice email message as received by your recipients