Every online service including shopping, banking, and news requires an account and password to be established for access. Learn how to avoid having to remember all the different combinations of IDs and passwords.
One of the newest features added to the latest handheld operating system [Hack #20] is Password Keeper. You can see its icon, a vault, in Figure 5-9.
Figure 5-9. New Password Keeper application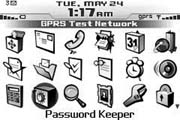 5.3.1. Set Up the Password Keeper Password
Password Keeper provides a secure means to store various information such as IDs, passwords, and PINs using AES encryption technology. You can also use it to generate random passwords or to copy a password to the clipboard, which you can later paste when accessing an application through the BlackBerry Browser. When you open Password Keeper for the first time, you are prompted for a password and must reenter it to confirm. The password screen displayed is shown in Figure 5-10. Once you have typed the password, click OK to continue. Password Keeper is ready to use!
| | |
| --- | --- |
| | Even if your handheld uses password protection to unlock it, you will be prompted for another password for the Password Keeper application. |
Figure 5-10. Setting the password for Password Keeper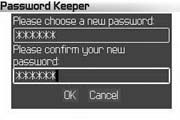 5.3.2. Add an Entry to Password Keeper
Now you are ready to add an entry to your password vault:
Click the trackwheel and select New from the menu. The Password Keeper displays a New Password screen.

In the Title field, enter a brief description that will help you identify what the entry relates to.

Enter the username in the next field.

Continue to scroll down, and then enter the password associated with that username.

Enter the web site used for access under the Website field, if it applies.

Under the Notes field, enter any additional information you would like to note about this entry. You can see a completed entry in Figure 5-11.

Click the trackwheel and select Save.

Repeat the steps above for each account you would like to enter.
| | |
| --- | --- |
| | Don't forget! Each time you open Password Keeper you will be prompted for your Password Keeper password! |
Figure 5-11. Sample Password Keeper entry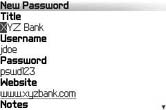 When you want to access a password, just open Password Keeper and scroll down to the desired entry. You can click and select to edit or view the entry. If you are using the BlackBerry Browser to access a mobile online service or application, you can use Password Keeper to copy the vaulted password to the clipboard to later paste into the application. This is done by simply right-clicking the entry and selecting Copy to Clipboard. Once copied, open the online application and paste the password into the proper field.
You can also use Password Keeper to generate random passwords as well as define the criteria for those passwords. Various options are available; open Password Keeper, click the trackwheel, and select Options. The Password Keeper Options are listed.
If you use Desktop Manager to back up or restore your handheld data, your passwords will also be safely backed up along with your other data. Since the data is encrypted, your passwords are safe!
Shari Kornberg