This program provides quick and convenient on-the-go searches of the yellow pages, the white pages, the Web, movies, and more.
Calls to 411 on your BlackBerry can add up to big charges on your monthly phone bill, and even after you've gotten the information you want, there's no easy way to save it for later use. On the other hand, using PC web sites like Google Local from the BlackBerry is slow and inconvenient.
| | |
| --- | --- |
| | You can also access Google Local using SMS, or the text messaging feature on your mobile phone. Just send your search terms to 46645 (GOOGL on most phones) and you'll get a reply with results from Google. Although this is convenient, most plans charge for each SMS message you sent, so these queries can quickly add up. |
Berry 411 provides the best of both worlds: free and convenient mobile search optimized for the BlackBerry. In addition to white and yellow pages with maps and driving directions, Berry 411 provides searches for Google results, movies, and price comparisons. You can dial phone numbers directly from the result screen and add them to your Address Book.
The over-the-air install [Hack #97] is available at http://www.thebogles.com/berry411.jad, and the install for Application Loader is available at http://www.thebogles.com/berry411.zip. The official home page for Berry 411 is http://www.thebogles.com/Berry411.htm.
Berry 411 is charityware: users are encouraged to make contributions to a number of charities; consequently, there are no per-search charges with Berry 411.
5.2.1. Set Up Your Addresses
Berry 411 launches from an icon on the Home screen. The first time you run Berry 411, or whenever you select "Edit Addresses," Berry 411 will prompt you for your home and work address, as shown in Figure 5-1. You can enter a Zip Code instead of a city name if you wish.
Figure 5-1. Setting up addresses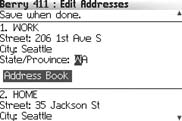 5.2.2. Search
The main Berry 411 search screen (shown in Figure 5-2) is the hub for all the different kinds of searches. It allows you to cycle between your home, work, and other addresses, to enter your search keywords, and to select the kind of search you'd like to perform.
For example, if you wanted to find the Mediterranean Mix restaurant near your work, you could type in "med mix" and click the trackwheel twice to select Yellow Pages search.
Berry 411 remembers the last location you searched for, so often you don't need to change it. You can toggle your current location by scrolling to the location drop-down menu and hitting the spacebar.
Figure 5-2. Berry 411 Search screen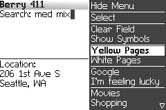 5.2.3. Yellow and White Pages
The yellow page results page displays the names, phone numbers, and addresses of all the matches. From the results page (Figure 5-3), you can dial the phone number or even add it to your Address Book.
Unlike traditional 411, you can view maps of each result (Figure 5-4) and get driving directions from your currently selected location (Figure 5-5).
Berry 411 displays results from Google Local carefully optimized for the BlackBerry screen. The white pages search does the same thing for people in Google phonebook.
Figure 5-3. Yellow page results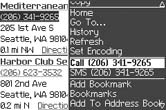 Figure 5-4. Maps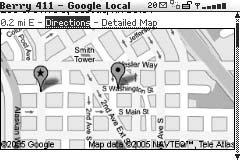 5.2.4. Web Searches
Sometimes you're on the road and need to check out some facts from the Web. Berry 411 makes it convenient to search the Web using Google (Figure 5-6) and to obtain mobile-friendly reference information using MobileAnswers (http://mobile.answers.com/).
Figure 5-5. Driving directions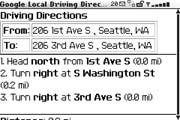 Figure 5-6. Google searches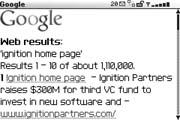 5.2.5. Movies
Suppose you've just finished dinner at a restaurant and want to know where a particular movie is playing. Just type a few words from the movie's title into Berry 411 and select Movies from the menu. If you want to know all the movies playing in your neighborhood, just leave the search box blank. (See Figure 5-7).
Figure 5-7. Movies results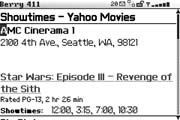 5.2.6. Shopping
When you're in a store, it can be difficult to know whether you're getting the best deal. The Shopping search integrates with Froogle to show you the best prices from the Web for the item you're about to purchase (see Figure 5-8).
Figure 5-8. Froogle price comparisons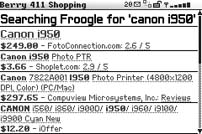 5.2.7. Yellow Page Search Tricks
These tricks will help you get more out of Berry 411 yellow pages:
Override the default search location by including it in your query (e.g., "Antiques Hanover NH" or "school 02139").

Get driving directions to a specific address by searching for that address in the yellow pages (e.g., "206 1st Ave S, Seattle WA").
5.2.8. Web Search Tricks
You can take advantage of many hidden features when you search Google using Berry 411.
Search for "weather" using Google to see local weather.

Use Google as a calculator by entering an expression (e.g., "72 * 15%").

You can convert back and forth between English and metric measurements. Just enter a size and unit (e.g., "20 miles").

Search for "wk word" to find the wikipedia.com entry for word.

Search for "answers word" to find the mobile.answers.com entry for word.
5.2.9. Extend Berry 411
The author is currently seeking suggestions for new Berry 411 features, and future versions of Berry 411 will support the ability to add your own custom search types by entering a name and URL. Please contact the author with your suggestions, as described on the Berry 411 web site.
Phil Bogle